STATUS:
This hack has been put on the backburner for
another hack I'm making
. Turns out I have too little experience for a hack this big, and to be honest there wasn't much in terms of gameplay done. I will return to this eventually, after this new hack is made.
ORIGINAL POST:
Hello SMWCentral!
Welcome all, and thanks for clicking on this thread. Here I will be showing the development of my (prossibly tentative?) title for my hack:
Mario in the Mirage Machine: Secrets of Subcon !
New! As of April 22, 2015
: Get your support banner!
(Quote this post to get the HTML code!)
Update as of April 22, 2015
: Currently working on spriting Kamek, as well as level and story planning. SO EXCITED!

Stay tuned for updates!
Foreword:
Before you get the ball rolling reading this, you're welcome to skip this part. It's just my personal thoughts on my standpoint on this project and where I want it to roll.
This is a personal project for me, and my love song for Super Mario RPG. I'm attempting something I've never tried before, making a full storyboard, cast of characters, as well as interactive environments based around the legendary SMRPG and Mario universe. You're welcome to call it a fan-fic you can play, as that's what it'll likely boil down to in the end.
The story is not meant to be serious, it'll likely poke fun at itself. I'm going to try to reinvite the charm, humour and energy of the original game, but give the whole game a new air and atmosphere without changing it's flavor too much. What that means is you'll return to the original SMRPG world with it's charm, but with some innovation of my own new ideas, the player will explore the unseen depths of characters within the game that wasn't previously explored in the original. Examples include what is going on in between the adventures with the original cast, what Mallow is thinking during his adventure with Mario, what's going on with Mallow after he accepts his princely duties, just to name a few things I want to explore.
Part of the reason I love SMRPG is for it's light-heartedness and childlike characteristics. The plot is simple, straightforward plot to follow. It explores fantastic, bright new lands with charming music and a good taste of action.
I couldn't help but think, what is going on behind the scenes of these characters? Like our world, there is good and evil in it, but where does it develop in Mario's world? How does it take shape? I wanted to explore another idea of where evil could come from instead of "that dude is a bad guy just because." Of course, I'm not going after the idea in a traditional sense, this is the Mario universe we're talking about here. I'm more after the metaphor in the end of the game, of a certain "evil" that resides in all of us. I'm still trying to think of how it'll unfold without the player becoming bored or without it becoming some cheap philosophy lesson. I also want to explore different ideas of each character and their choices, as well as introduce other characters that have some sort of impact on the player.
All in all, this is really a therapeutic exercise for me. I'm taking ideas from my own life challenges and experiences and translating them into something relateable and in a charming way made for the Mario universe. I just hope it doesn't become edgy or be too out of tone for a Mario game.

I want the player to think about the choices the characters made, and have them reflect upon it in themselves.
Well, if you read all that, thank you! I'll admit I'm probably talking pretty big (this hack will take some time to develop), but we'll see where it goes from here. Here's my shot at the (slightly ambiguous) story!
The Story:
Warning: Terrible Mario Fan-Fic Inbound!
-This is still being revised. More specific details within the story will be filled in later-
This takes place an undisclosed amount of time after the events of SMRPG. Mario and friends are invited to a special event (?) in Nimbus Land. Even Bowser is invited, and shows up on the idea from Kamek on account of... politics.
"
Shut up it makes sense,
" grunts Bowser. Mario responds by taking a step back. Mario, Mallow, his parents, his guards and a small group of guests listen to his speech that he clearly barfed up.
"I'm spreading the word the Koopa Troop has changed its leaf! You heard right! The Koopa Troop will now mark truces with neighbouring kingdoms, on the account of... politics. Shut up it makes sense! We're looking to rebuild my keep, and we need donations and troops!

...

Whattt, you don't trust me?! Even after all the trouble dealing with that sword guy and his lame army?! Why I aughta... Err I mean, we should all get along! You can trust me now that I won't pulverize every one of you in this room! Right?!"
Bowser's eye twitches.
(Clearly those he's talking to believe "Bowser" and "can trust" do not go in the same sentence.)
Some time later, an accident occurs and Mallow gets a bump on his head that causes amnesia. Mario and Yoshi have to travel inside Mallow's dream head world (yeah it's a thing) in order to restore balance to Mallow's disorder. If you've ever watched Inception, it's sort of like that. Anyway as the game progresses, you have to gather seven of Mallow's most influential memories of people in his previous journey with Mario. Mario will run into Mallow's old memories and thoughts and have to collect them, fighting some old and new dream baddies along the way. That's just Chapter 1!
In Chapter 2, things get a little wonky. After some mishap from the Koopa Troop, Mario, Yoshi, Mallow, Kamek and Bowser along with some others are teleported and trapped within the dream world of Subcon (or maybe the Mirage Machine?). After the mishap, a new entity appears within Subcon, prompting those who are trapped within it to come together to stop this new force, even if it is reluctantly.
What happens next, you ask? I don't know, I'm still writing it. I'm not giving you any hints, shoo shoo!
/fanfic over
What I plan this hack to have:
- New story! A semi-serious three-chapter story with so many plot holes you'll crash your car trying to count them!
- More environments to explore! Explore the new yet familiar dreamscapes of Mallow and others in the newly lit and bizarre world of Subcon!
- New events! Interactive environments! See strange dreams you never thought the characters had dreamed up!
- New playable characters! See more rivalry and drama within your party! Brand new legitimately terrible Mario fan-fic character development for YOU to loath AND play through!
- New supporting cast! More characters to charm you, and to call you stupid!
- New and fresh battle sequences, as well as returning battles with baddies who have new twists on how to defeat them based on how the setting feels. Will offer slightly more strategic sequences than the original, but not hard enough that you have to be an expert of the original game, or any tactical RPG for that matter. I will try to shoot for the novice player difficulty.
- New attacks and just about everything battle oriented.
The Cast:

Mario
- The good hearted Mario makes his return as our main protagonist. He is the driver that takes us through our story. He can be a little too gung-ho about getting in fights. His motto comes from Frogfucius:
"Jump on your problems like Mario jumps on his enemies."
In battle his stats are all balanced. He comes with two new special abilities and one revamped skill. Prepare to jump on a lot of your enemies, because the jump element now causes mute!
Yoshi
- Yoshi is the first to join the group. Rain or shine, sacrificing themselves for you and standing by your side even through all the tough times you've had, Yoshi is as loyal as it gets. Yoshi's motto is
"Eat well, and never get full!"
In battle, Yoshi is built to heal and support his allies. Yoshi has certain
eggstraordinary
abilities that'll let you tackle even the strongest of foes!

Mallow
- Mallow, our setting and star for the story. He's compassionate and a child at heart. He's working to be the prince of Nimbus Land, however things pretty different than what he had to deal with growing up. His motto is
"I'm NOT afraid. And I'm NOT gonna cry!"
(Oh, but he will.)
His skills have developed through Mario's adventure that he now is glass cannon in this! His specials are quite supportive, and the ones that deal damage pack quite the punch. Take him when you want quickly defeat waves of enemies, along with quickly perking up your allies!

Kamek
- Kamek is the snarky comic of the group and is the brains behind Bowser. His relationship with Bowser is tight knit, but may actually branch out to be more than just being partners in crime. He is the gauge to keep Bowser's impulsiveness in check. He has the ability to actually make Bowser flex his smart-muscle and make him THINK for once! His mottos are
"The Koopa Troop is #1!"
and
"Children first!"
He is the mage of the group, exploiting the weaknesses of enemies with various powerful spells used to control crowds of foes.
Get away useless useful spells
, all the offensive specials he casts can inflict ailments AND big damage! At the cost of more FP, of course. He and Bowser both work to contrast each other: Kamek controls the crowds and Bowser takes on the single, larger foes.

Bowser
- Last but not least: His followers fear him for his power, brawn, and looks; He is the BAD King and rival to Mario; He's the big-bad Bowser! He isn't the King of Koopas for nothing.
"Nobody can be the boss of me, NOBODY!"
His motto for his troop is "Loyalty to me, invade kingdoms, steal the princess and defeat Mario! Or ELSE."
He is built with lots of physical brawn for battle, but this time has some new supportive abilities to give him and his troop more edge.
"Bowser is BACK, baby! Muahahaha! Miss me? Yeah you did."
Screen Shots: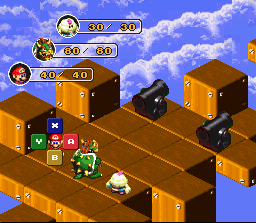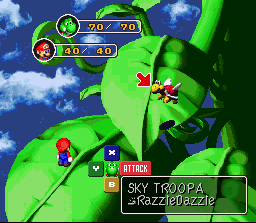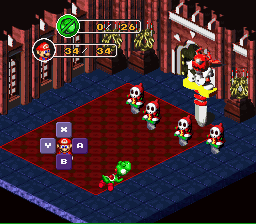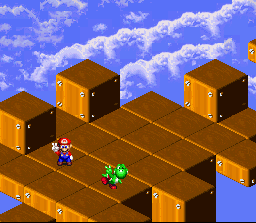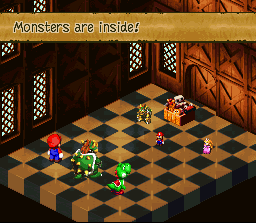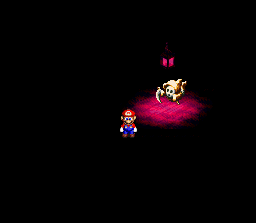 Marsh Mallow (Mallow's Dream World)
(Click to enlarge)
I vow to not make this project gratuitous and not finish it. I'm hoping that with that plan and the story behind me I can really make something work. I'm going to muster up all the motivation and ambition to finish this!
Any comments, crits, ideas, suggestions or whatever have you, will be reviewed and are appreciated.
Original Post (09 December 2014):
So at the beginning of this month of December, I decided I'm finally going to do it. I'm going to make a full hack on SMRPG, and not just any hack, but my own unbiased hack and not just some scrap test patch.
Up to this point I really have not produced much of anything substantial for the hack except a few level, enemy and player concepts and a little bit of the story to go along with it.
So what do I have? I have a basic plot that I would like to share and hear comments about.
This takes place after SMRPG. Mario and Mallow go on a journey, and Mallow gets a bump on his head that causes amnesia. Mario has to travel inside Mallow's dream head world (yeah it's a thing) in order to restore balance to Mallow's disorder. It's sort of like Inception... Anyway, throughout the game you have to gather seven of Mallow's most influential memories of people in his journey up to that point. Mario will run into Mallow's old memories and thoughts and fight some old and new dream baddies.
Up to this point I plan on
six
seven different dungeons, and
one
three town
s
. I've made part of one town and finished one dungeon. I have ideas about what I want to do for all the dungeons but nothing else is set in stone.
I'll show off what I have. The town is based just some town with a snow palette... It's not finished but the palette looks cool to me (no pun intended), what do you think?:
(Click to enlarge)
The order of the places the player goes are:
Town/Mountain
Tadpole Pond dungeon
Mushroom Kingdom dungeon
Booster Tower
Bowser's Castle
Nimbus Land/Valentina's Castle
Mirage Machine
???
The final partner line-up is:
Mario (
Our hero and main protagonist. Has balanced stats.
)
Magic Robot-Dream-Doll-Scarecrow-thingy (
Uses Geno's sprite and is now a magic Robot-Dream-Doll-Scarecrow-thingamajig that the Nimbus Land doctors tell Mario will assist him. He might only be controlled by the Nimbuses, but who knows. He'll be the glass cannon!
)
Mallow (
Mallow, our set for the story. As the mage, he uses weather to defeat his enemies.
)
Fake Bowser (
Or maybe just regular Bowser. Could be a minion turned into Bowser via magic. Mainly physically strengthed and has some supportive abilities that will actually be useful this time around.
)
Yoshi (
The healer. Supports the team using eggtraordinary healing abilities!
)
I plan on new spells and attacks (have a few already) as well as levels, events, battles and other goodies. Stay tuned!
(I vow to not make this project gratuitous and not finish it. I'm hoping that with that plan and the story behind me I can really make something work. I'm going to muster up all the motivation and ambition to finish this!)
Any comments, crits, ideas, suggestions or whatever have you, are appreciated.
List of all SMRPG Hacks

Layout by Erik557 & LDA.
Thank you!