Originally posted by Niamek
Sorry for being late, just saw the screen and I have one concern: Will the priority mechanic of the game will be correct? I'm not sure you can walk behind it it without appearing in frond of it... Unless you use overlaps.
Ahh, I'm sorry my post is late. Thanks for the concern. Most of the arch is priority 3, so it's all fine and dandy to walk in front and around.

Update: I've been busy trying to get my life put together, and this ultimately had to be put off. In truth I've taken a break from working on this, as I kind of got lost trying to be creative with so many things going on. It's not that I don't want to work on this, real life is just too OP.
I've managed to get some things done. I'm excited about the little bit of progress I've made this past week, and I hope to show some of it in the coming weeks. Here is something I made some time ago: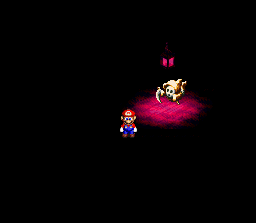 Edit: Updated the main post. Really hope I didn't get too wordy, but oh well, I think I like writing my thoughts down.
Edit2: If anyone wants the green SMB1 Bowser, they are welcome to use him. I don't think I'm going to include it in the hack. Gonna go with the regular Bowser. Sorry for the Yoshi, I completely replaced Toadstool. >_<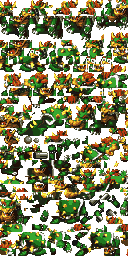 Edit3: Here is Bowser without Yoshi in it. Simply set the BPP GFX Offset to
319E60
and import this image, then revert it back to
31B9A0
.