At least that's what I'm calling it for now. (very creative, I know

) I'm likely to change the name of it if I come up with something better later on, but for now, I'm calling it this. YAMA for short. (. . .

)
Anyways, I finally decided to make a hack.

I have been working on it for the past couple of weeks now, and got a grand total of four levels done, as well as the overworld for the first world. Probably would've gotten more done quicker if it wasn't for school getting in the way, but that's aside from the point.
Anyways, I obviously came here with screenies in my possession, so this post wouldn't be contentless, and boy did I have a lot of them. 32, if I recall correctly. I actually had to cut down a bit so it wouldn't be too many. <_<
I will try my best to come up with descriptive descriptions of each shot here.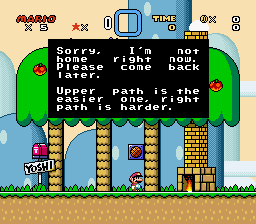 Yoshi's House. I kept it to level 104, and I only edited the message box. I basically came up with my own generic text to go along with it, and gave a small hint about the first world. When I release a screenshot of the OW, you'll see there are two paths you can take, a short and harder one, and an easier but long one. And no, before you ask, this isn't going to be a recurring theme for every world.
First level, this one is on the "easier" path. Not the best at coming up with names, so I currently have this one set as "EASY PATH", but don't worry, I'll come up with a better one eventually.

As you can see, I did my best to keep the terrain varied so it would be interesting. I also made sure to include decorations, of course.

The enemy "theme" for this level is mainly koopas, parakoopas, and chucks.
A vine. You need to break the block above it before hitting it, similar to what I've seen done multiple times. It basically leads up to an area with a few clouds and a 3-up moon. I wanted to have something hidden, but not TOO hidden, since it's still only the first level. I also wanted the players to be introduced to the concept of hidden things and subtle non-linearity, of course.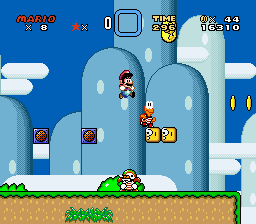 This is the first level of that slightly harder path I mentioned above. It is also accessible right from the beginning. Those two message boxes explain that a little for people who neglected the Yoshi's House, and even shows that you can exit the level by touching the screen just to the left.
The main reason why I'm showing this shot is because I have a feeling I'm going a little too far over a very minor concept that isn't even going to be regularly occurring in the hack, but I wasn't quite sure. I would appreciate any thoughts on that, but for now I'm leaving it as-is.
Running out of things to say about these shots. >_>
Coin quides lead over the pit so you don't end up falling into a pit because of the blind jump. Adventurous people may try going for the yoshi coin...
Also, ignore the midway point there. When I was designing the level, I completely forgot that I was planning on NOT including midways in the "harder" levels, and I have already removed it.
At the goal, I included a little bit of water here at the end. The level after this on the same path is a water level, and I came up with this idea to give it the feel of "transitioning" to the next.
Not sure if this was a good idea or not though. Tell me what you guys think.
The aforementioned water level. An optional yoshi coin can be obtained by traversing past the spike balls.
I put little safety platforms under things such as power-ups. Again, ignore the midway, already removed it, yada yada. I put this water level on the hard path of course. (optional path, water level, yeah, totally going to repel people from taking this shortcut

)
There are a few tight spaces such as this one throughout the level. The coins hint toward a yoshi coin above.
Again, I wanted to do a little "transition" thing at the end.
Fourth level, just finished this one today. This is an underground level, and put a little pipe at the start. Put coins over it to indicate you should go through it.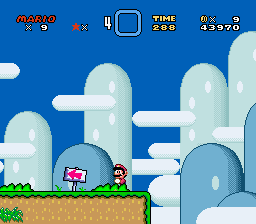 And for those who don't go through it, they get an arrow pointing the other direction so they don't run through and accidentally jump off the cliff before they realize they're going the wrong way. I didn't want to put a cement block wall because I personally didn't think it looked good and/or fit well.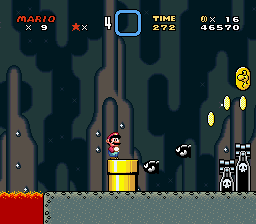 The main theme of this level is bullet bills. There are a number of these bill canons throughout the level.
Koopas are also present. No parakoopas, though.
...And goombas. As you can clearly see from these shots, I also included some lava pits. Be careful!
...So that's all I got so far. Expect an overworld pic VERY soon, I am trying to polish it up a tad before I show it off. Expect it sometime tomorrow or the day after.
Anyways, as for these shots, I'd really like you all to give your honest feedback and criticism. Don't worry about hurting my "feelings" or whatever-- I won't cry if everybody tells me these pics suck, and for all I know they probably do.

Just remember to be constructive with it.
Oh, and another thing. If you see something here that I DID do in a good way and you think I did it well, please do not worry about posting a "contentless-because-it-contains-no-criticism" post, I encourage all posts of the sort because as I said already, this is my very first hack and I would much appreciate advice on what I should improve on and some indications on what I'm doing right and should keep on doing.
Thanks!

---
Twitter
The handomest people in the world are ones who follow my
Twitch