Yep! The final version of YSQ is finally done and is now being released! For those of you that followed the YSQ thread, this probably shouldn't come as a surprise considering that I began my final beta tests not that long ago. Well, now you guys can finally play the final version of YSQ.

Feel free to skip the next few paragraphs, as it's mostly stuff you guys already know about. However, for those of you that haven't been following the YSQ thread who just clicked on this thread's link, read on.
For those of you that don't know, YSQ is my second SMW hack, which is a sequel to Mario's Strange Quest, that I've been working on for the past 3.5 years sometime after I finished MSQ. From day one, YSQ was my attempt at making a SMW hack that improved upon everything about MSQ, whether it be level design, graphics, humor, etc., and I feel that I've definitely accomplished that. YSQ was an interesting learning experience that I had a lot of fun making (well, for the most part. Can't forget those times where I got frustrated trying to solve some annoying problem I encountered. XD)
But enough with the introductions, you want to know more about the hack itself and not some of the history about it, don't you? Well, for starters, in YSQ, you play as Yoshi, who has all of his abilities in Yoshi's Island, who is going on a quest to rescue his unhatched eggs that have been stolen by Bowser. Sounds kind of generic so far, doesn't it (well, aside from the whole "Yoshi has all his moves from YI" thing)? Well, don't worry, there is A LOT more to YSQ than just that. You see, Yoshi moved to a new land after the events of MSQ in order to keep his eggs safe from Bowser, but they get stolen again anyway after Yoshi settled down in a nice cozy part of the land of Weirdonia, so Yoshi ends up having to go on a journey through Weirdonia to get his eggs back. And Weirdonia certainly lives up to its name, as it's a pretty strange land. Yoshi's quest takes him through many strange places, like a forest that grows vertically on the side of a firey mountain, a place where logic is replaced with insanity, a bridge area covered in butter for some reason, an underwater area where the laws of gravity get snapped in half, a ghost house that is not scary in the slightest, and many more areas.
In addition, YSQ is very heavily modified compared to the original SMW, to the point where YSQ barely even resembles SMW, especially in how you play it. It plays more like Yoshi's Island than it does SMW in a lot of ways. Not to mention that I managed to squeeze in a ton of custom stuff into the 4 MB of space YSQ takes up to the point where I was in danger of running out of ROM space several times while making YSQ (of course, I could have expanded YSQ to 6 MB, but that would have caused lots of problems). And if it wasn't for some new things that were made while I've been working on YSQ, such as AddmusicK, I would have had to make some sacrifices here and there. But thankfully, I didn't have to cut anything.
So, what does YSQ offer? Quite a lot:
- 71 fairly long levels (100 exits total)
- Custom Graphics (mostly graphics that others made, but a few that I drew myself, some of which were released during the previous C3)
- Tested on and works without much issue on a real SNES
- Custom Music (over 100+ songs)
- Tons of Custom ASM (Most of it was done by others, but some of it was done by me, such as one of the bosses)
- Lots of level variety
- Plenty of (possibly) unique gimmicks and themes
- Lots of silliness and general weirdness (YSQ takes MSQ's weirdness factor and cranks it up to 11).
- A box art image, a cartridge sticker image, and an SNES style game manual (I wanted to make YSQ feel more like an actual SNES game. And yes, I seriously went out of my way to make these things)
- Older versions of YSQ (V1.0, V1.1, V1.2, and V1.3 Beta) are linked to in the readme for those that are interested in seeing what YSQ was like in past versions
- Lots of secrets to find (10 Scenario Rooms, 10 Error Message Rooms, many regular bonus rooms, several easter eggs, 29 secret exits, and 355 Yoshi coins)
- A handful of bonus features, like a harder difficulty setting and an area where you can listen to all the music in YSQ.
- Over a day or twos worth of gameplay*
*Assuming you're average at platformers, you go into YSQ blind, and you go for both 100% exits and Yoshi coins.
And now, here's the pretty pictures: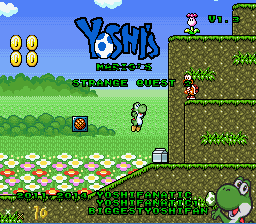 I was feeling lazy, so I asked Yoshi to present YSQ for me.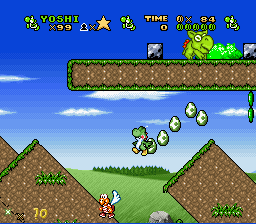 Yoshi is just fluttering through the air without a care in the world. Well, as long as he doesn't run into any T-rexes, flying enemies, or flying T-rexes.
It's Butter Bridge. You know, that level from YSQ? I wonder where I got such a silly idea for a level...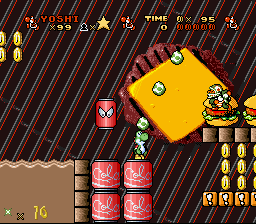 There's a specific internet meme I could use for this caption, but that would have been very predictable.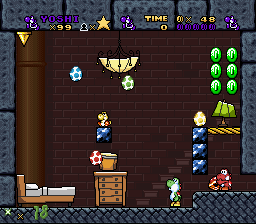 Epic boss battles against the forces of evil!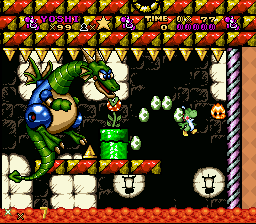 This dragon either wants to kill Yoshi for trespassing or it wants to give Yoshi a hug. I can't really tell.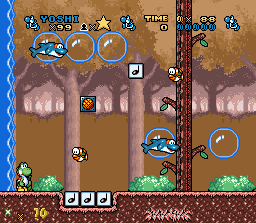 I don't get it either, Yoshi.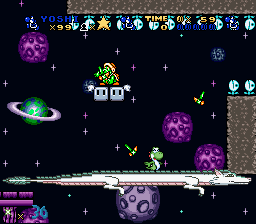 Surfing through space on the back of a dragon? Totally radical!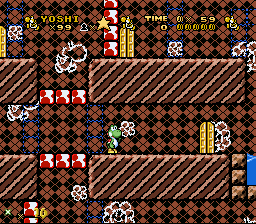 YSQ has some pretty tricky puzzles in it. They'll possibly leave you scratching your head.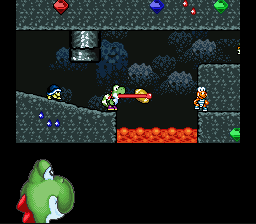 I'm going to go take a quick break from looking at all these screenshots to go watch a movie with Yoshi.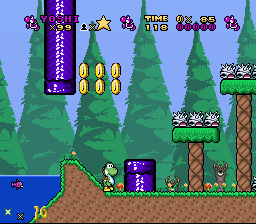 Something about this place seems off, but I'm not sure what it is.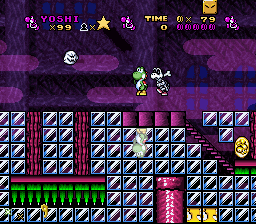 Oh no! Look out Yoshi! He's gone a bone to pick with you!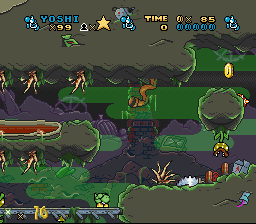 I just invented smell-o-vision, which will allow you to experience YSQ in a whole new way! You guys will love it!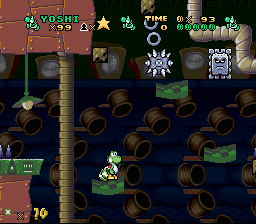 Note to self: Never go to this laundromat ever again. One of the washing machines ruined my favorite Yoshi shirt!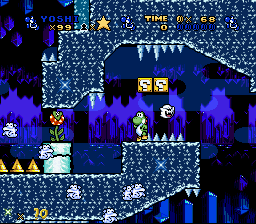 ?ot gniklat I ma ohW .tekcaj ym thguorb evah dluohs I .yllihc yrev osla s'tI !live erup si level sihT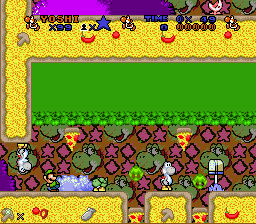 I wonder what the heck I was thinking when I came up with this? XD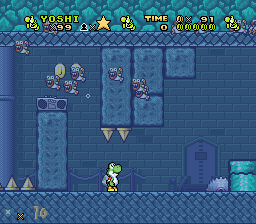 This is what happens when you want to listen to loud music in a castle filled with sleeping rip van fish. Only a moron would do such a thing.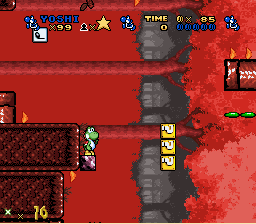 I apparently made this level while my computer was laying on its side. Don't ask why.
So, if you're interested in playing this strange hack, here's the download link:
The Big, Epic, and Lemon Scented Download Link
If you do download it, then I hope you have fun with YSQ!

Note: YSQ is fairly difficult, especially compared to MSQ. If you're just going for 100% exits, then it shouldn't be too bad, aside from maybe a few levels or a few specific parts of some levels, but all bets are off if you're going for 100% Yoshi coins as well. Double so if you're playing on hard mode. Get used to how Yoshi's abilities work, particularly the flutter jump, because you're going to need to get good at it by the time you get to the latter worlds.
Note: YSQ allows you to save your progress at any time on the overworld by pressing L, so be sure to take advantage of that!
Note: If you guys find any bugs, let me know. While this may be the final version of YSQ, I'll release another update if necessary in order to fix bugs.
--------------------
My Hacks:
Mario's Strange Quest V1.6
Yoshi's Strange Quest V1.3
/
V1.3.1 Beta 4.6
Mario & Yoshi's Strange Quests
(7/3/2021 Build)
Other stuff:
My SMW/SMAS/SMAS+W disassembly
Yoshifanatic's Discord Server
: A place for fans of my stuff and/or Yoshi to chat with others.