Your FG looks very good overall.
The outlines in the bushes and the hills can help the player to identify the objects with no interaction.
The shading is smooth and gives a good sense of profundity.

The only thing I not liked completely was that the blue squares have a pixel in corners when are above other squares. It's hard to notice it anyways, specially overlapping two blue squares.
Definitely very well done SRH, I really like the shadow that is shown there on those SMB3 ledges. Not really much I can say about it though, it reminds me of SMB3 a lot, which is really good, everybody likes some SMB3. Slopes are a nice touch, though I think the fill could've been better if it was wavy like SMB3 and not just striped, but that's just my opinion on the matter, I'm not telling you to redo it.
@S.R.H.: Nice FG, perhaps you need to add flowers or perhaps, a fence.
Is my idea cool?
SRH: Looks really nice! Definitely a very well drawn set.

One thing slightly bothers me, though - while the bushes look great, they don't seem to fit very well with the rest of the tileset for some reason. Dunno why, or what else you could do, but something close to SMW's bush for example would probably work better.
Finally starting to rip the rest of Shikaternia's custom SMB 3 tileset. You know, the one with about a hundred different tilesets in it, that can be found here:
http://mfgg.net/index.php?act=resdb&param=03&c=1&id=30023
I've gotten permission to submit them here by the way.
So yeah, the first one ripped specifically for this project. It's a Yoshi's Island style castle tileset that's much, much easier to use than the official one and fits in very well with Mario All Stars sprites and blocks:
It uses just one and a half palette rows and two ExGFX files.
--------------------
For gaming news and Wario discussions, check out
Gaming Reinvented
and
Wario Forums
respectively.
As for Mario's Nightmare Quest? Well, it's currently on Fusion Gameworks, ROM Hacking.net or the GCN at the moment.
+1. Shikaternia's pack definitely has some great sets. That castle tileset isn't really one of my favorites but it works well.
What?!
No new tilesets in 10 days?! Impossible!
/me revives thread
Airship tileset.
I like the look of that. There aren't too many airship tilesets out there anyway, and this one wouldn't even look out of place in a standard Mario-themed hack.
@cheat-master: That's actually really nice: it's like Yoshi's Island meets SMB3, and I can imagine a lot of people would want to use that.
@S.R.H.: It's okay I guess. I'm just not a fan of rounded architecture on airships unless it's supposed to be the hull or a pipeline, etc. Everything else about it looks good though.
As for myself, I've been kept rather busy these past few weeks, between getting caught up on games and coursework, I haven't had too much time to work on anything hack-related... until now.
As much as I liked the Kirby's Dreamland 2 Iceberg tileset I ripped, it just wasn't matching up to the style I've been going with for my hack lately, so I drew this one up. It borrows quite a bit of inspiration from New Super Mario Bros.
--------------------
My Let's Play channel
(Current LP: Final Fantasy VI, MegaMari)
Okay, how about this for an interesting tileset?
Yeah, it's the RPG patch. With graphics ripped from The Minish Cap on GBA. I plan to use them to make a full blown 2D Zelda style dungeon level in my current project (which will go alongside traditional 2D levels based on the Palace of Winds, Shadow Temple and Stone Tower Temple).
It's about 1% complete at the moment. I need to rip the windows, nets, obstacles, spike traps, and Zelda style enemies to go with it.
--------------------
For gaming news and Wario discussions, check out
Gaming Reinvented
and
Wario Forums
respectively.
As for Mario's Nightmare Quest? Well, it's currently on Fusion Gameworks, ROM Hacking.net or the GCN at the moment.
Seems you've got a lot of work to do, but that is really well ripped! Well done.

--------------------
Your layout has been removed.
I was never a fan of that RPG patch, too few resources for it. That being said, it looks great!
There's more to the tileset, I just don't want to spoil the whole thing.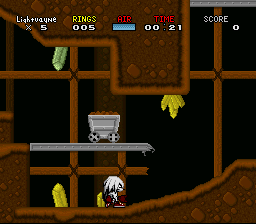 As I cannot take any credit for the cave graphics themselves, I am looking for feedback on the mine cart, rails and wooden pillar gfx.
@ cheat-master: Loving the RPG style so far. Can't wait to actually see them in-game

@ Skewer: Love the factory graphics, there are very few good ones out there. Excellent job.
@ Gemini: Looking good. Great job!
Layout by LDA during C3.
Looks decent. I would say add an outline, but the foreground does not have one so i can understand why.
@Lightvayne - It's nice to see someone add details to an existing tileset, although there's one thing that's bothering me: The added details look crisp and pretty clean, while the original tileset has a mostly a blurry look with a bit of graininess here and there.
Dr.Tapeworm:

Nice looking tileset. I like the usage of custom tiles mixed with older vanilla tiles. I like the colour scheme as well.
I really like the grassy/cave foreground part. You should add more tiles relating to that. Don't forget to add steep and normal slopes too.
Forum Index - SMW Hacking - SMW Hacking Help - Graphics & Related Topics - Original Graphics, Palettes and HDMA Showoff Thread