Hello guys. I'm yogui. You may recognize me from the maker of the romhacks Something and Something else. After finishing Something else I did a small break in romhacking, then went back to romhacking with Kirby's Adventure, then gave up and took an even longer break. But recently I decided to go back because I still love making romhacks. But I didn't wanted to do a long project. What I did is look at what I have done and while sorting everything I noticed I've had lot of unreleased and unfinished levels. So I'm deciding to release them so they don't ends up forgotten forever.
test.smc is the full name of a ROM I'm using for testing purpose. I first used this game to make some levels that were very "special" and not fitting in any of my completed hacks. But I still liked these levels. So what I've decided is to use this base rom, add more levels and release it. Some of these levels were actually pretty good and I've used the best of them for the collab hack JUMP made on talkhaus by terraformars (check it out, it's going to be a great collab hack).
The game will be called test.smc because why not lol
It will have an overworld, but all levels will be accessible from the start since some levels are too gimmicky and some borderline annoying.
They will also be a life farm available at the beginning. However since some levels use rather complicated gimmicks that can be broken with powerups, all powerup are removed when on the overworld. I know it's annoying, but VLDC2015 collab did it too. >:-(
Vanilla Chocolate doesn't matter. Since they are test levels most are rather vanilla. But some are chocolate too.
In case it wasn't clear, this thread is just to explain my project. No demo will be made, and the game is not finished yet. I intend to finish it before the end of the year. Before the end of summer if I'm really feeling it.
Enough talk, let's talk about the different levels of the games, with screenshots so it make the thread longer.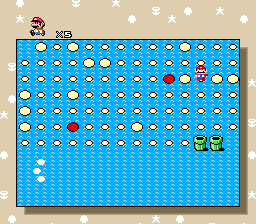 A test overworld. Of course the final game will have a proper overworld, I'm only using it for testing. The big dot means are playable and finished levels.
I don't know how long I want my hack to be. I will keep making levels until I got bored and make the overworld at the end. The levels will be ordered by difficulty and "amount of gimmick". Like I said, all path are open and you can play the levels in order you want anyway.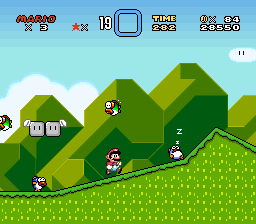 A level with fishes but no water. Nothing too fancy there.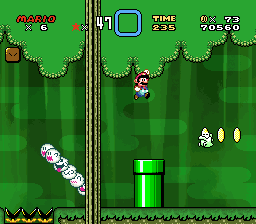 An old unfinished level from an old unreleased hack, finished and updated. Just a classic forest level with ghost.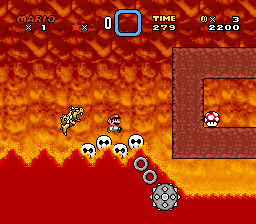 You know it, every hack have a skullraft level. Every focking one. And 90% of the time it's on level 10A like the original. So test.smc too :-) The skull raft is from start to end, no break.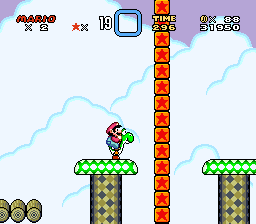 Some levels use an item/block/sprite/concept and extend it to make a full gimmick level. This one is the case. These blocks are filters blocks. I originally inserted them in the hack just for testing but decided to make a small puzzle level around it for fun. These blocks removes all powerups and make yoshi disappear (and you Yoshi jump automatically).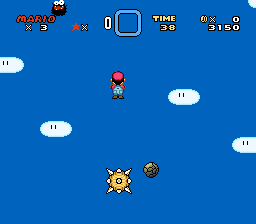 An extremely gimmick level. You fall in spinjumping state and have to avoid enemies and try to stay close to the rock that fall vertically as the end (goal orb) will be on the path on the rock.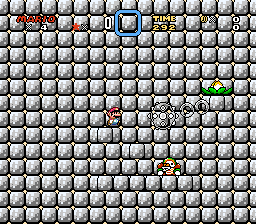 VIDEO CLICK ON THE IMAGE
Story: I made this level a long time ago in school. Because at school to make it quick I only used grey cement block. Then decided to use grey cement block for the background too. And now you have this mess of a level.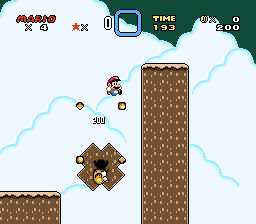 VIDEO CLICK ON THE IMAGE
Another extremely gimmicky level with only monty mole jumps you have to time precisely. This level is a bit bullshit imo, this is why all the levels are accessible on the overworld so you can skip this level if you don't like it.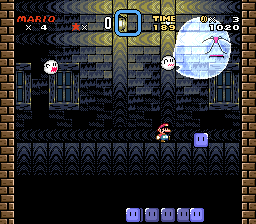 VIDEO CLICK ON THE IMAGE
There will be bosses. And of course a test hack means test boss, and what's a better boss to test than big boo. Yea there will be different big boo fight, this is one of them. It use a custom snake block sprite and imo it's pretty interesting.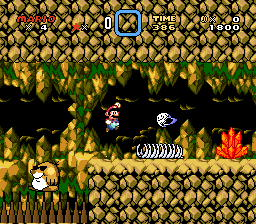 Although Something else was my biggest finished released hack yet there aren't many unfinished levels. In fact there is only one. If you looked at the rom in lunar you would have seen it in lunar magic in level 126 where only the first room was finished. So for test.smc I finished the level completely.
And finally, the link to the demo:
LINK
Do you even read the thread?
I hope this game gave you interest in my project and that you look forward to play and "test" it.
Have a happy C3.
Check out my Kirby romhack too (with a demo).