Hey guys, you'll never guess what I decided to do for C3!
Or maybe you did since you saw the title of this thread before clicking on it... Well, regardless, since V1.3.1 of my SMW hack has been taking so long to be finished and C3 was around the corner, I decided to get V1.3.1 of my hack ready for C3. I bet some of you must be happy.

However, I'm not quite done with V1.3.1, as there are still some things I have left to do, but I do have more than enough to show off and I ironed out most of the bugs that popped up from all the changes I made so I could release a beta.
Anyway, since this is a beta release and not a full release, I'm looking for beta testers to test V1.3.1 out. Unlike what I did for V1.3 (where I had a select group of people beta test), I decided to let anyone play V1.3.1. This is mainly because V1.3 took so long to be done with beta testing, that I felt that it was unfair that others had to wait because a few beta testers were being lazy and/or were too busy to play YSQ. Plus, I have a feeling that some of them only volunteered just to get early access to YSQ V1.3 and weren't going to help out. (However, for those of you that made a serious effort to beta test YSQ, such as smwforever45, Tyrex_Kyuris, and xirtamehtsitahw, I really appreciate what you guys did to help out.

)
So, for those of you that want to be a beta tester for YSQ V1.3.1, here are my guidelines.
- You can do an LP of this version. If you do, please mention in the video titles that you're playing V1.3.1 Beta. This will help me differentiate between the existing V1.3 LPs and your V1.3.1 Beta LP.
- If you find a bug or something that you think might be a bug, report it to me. I want you guys to err on the side of caution and tell me about anything you think may be wrong no matter if it seems like it should have been obvious or not or if you're not sure if it's a bug.
- If you're going to take the time to help out, please tell me what emulator/flash cart you're using. Also, try to play without savestates, rewinds, or cheats if possible. V1.3 ended up being way too hard in some places (ex. The area with all the bees) because most of my beta testers didn't give much feedback regarding the difficulty. If you're going to use tools anyway, tell me when you needed to use them excessively.
- If you have a Skype account and you give me your Skype name, you'll be able to send me feedback regardless of whether I'm logged in on SMWC or not.
So, if you want to beta test, let me know. The download link is down below.
For those of you that don't want to beta test or are new and want to know about this hack, here's some info about YSQ. YSQ is a hack I've been working on for the past 4 years that was meant to be a hack that topped my previous one, Mario's Strange Quest, and it quite a few ways, I've certainly done that. YSQ is very different from your average SMW hack, in that not only does it play very differently than the average SMW hack (it plays more like Yoshi's Island as Yoshi has all his abilities from YI), but it crams so much content into 4 MB of space and it changes the SMW engine so much, that it may be a contender for the most chocolate SMW hack on SMWCentral (However, only you guys can decide if that's truly the case or not). YSQ is a very weird game. The story is that Yoshi has to go on a quest to save his eggs after Bowser stole them again, but things are not always as they seem. Yoshi's quest takes him through a strange land where unexpected things can happen. Whether that be that Yoshi finds himself in an area loaded with weird food that will make him fat if he touches any of it, an area where gravity decides to rebel for seemingly no reason, or a locker room filled with chucks that don't take very good care of it, Yoshi will encounter a lot of weird and interesting places during his journey. Are you willing to help Yoshi on his strange quest through the land of Weirdonia?
Here's what YSQ has:
- 71 levels (100 exits)
- Custom Graphics
- Tested on a real SNES
- Custom Music (100+ songs)
- Custom ASM
- Lots of level variety
- Plenty of (possibly) unique gimmicks and themes
- Lots of silliness and general weirdness
- A box art image, a cartridge sticker image, and a game manual, since real SNES games come with these things
- MSU-1 support for those playing YSQ in BSNES/Higan or SD2SNES. YSQ only uses it for custom sound effects however, not CD quality music.
Here are some screenshots and .gifs: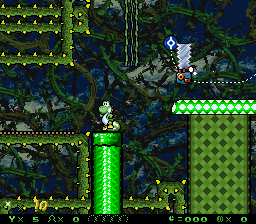 With this new ability, Yoshi can now find secrets, cookies, and secret cookies much more easily than before!
(Perhaps I might release a patch in the future that will add this feature into SMW? You guys will just have to wait and see.

)
All these customized animations were a pain to do, but definitely worth it in the end. As a fun fact, Yoshi actually has more poses than what SMW normally allows (82, where SMW has 70).
For those of you who struggled to escape this evil dragon and his lair of doom and sadness, you'll be happy to know that this section has been made easier.
V1.3.1 adds a lot of exciting* stuff!
*Your mileage may vary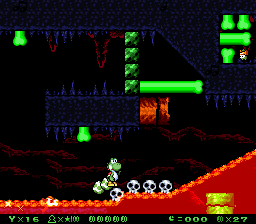 Someone complained that World 6 didn't look fiery enough. All those warm colors and junk were just plain pathetic at portraying a fire theme properly. It's dark blue and neon green that will make you feel the heat!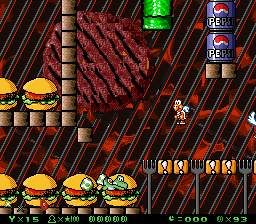 Yoshi must be in paradise right now.
This is exactly as difficult as it looks.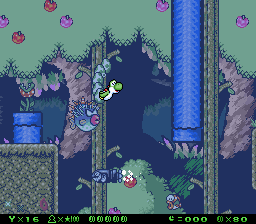 A nice peaceful swim through a forest of mysteriously deadly apples and killer wildlife. Nothing wrong with that, right?
Yoshi definitely took a wrong turn at Albuquerque...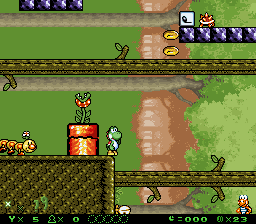 I could rotate this image 90 degrees and what you see in this image will make just as much sense as it does right now.
Not fiery enough! Needs more icicles and some cool shades.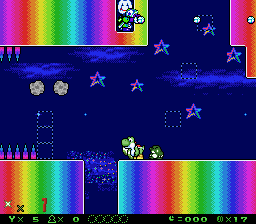 Alright that was a lame pun. Even Yoshi is disappointed in me for making that pun.
The Big Download Link of Unnecessary Size For YSQ V1.3.1 Beta
Included in that .zip file is:
- An IPS patch of YSQ V1.3.1 Beta
- A box art image
- A cartridge sticker image
- An SNES style manual (which I have to update, as some of the information in it is outdated)
- A readme
- A .txt file listing of all the people who helped out with YSQ in some way
- A .txt file listing all the bugs I found while beta testing that aren't fixed yet as well as a list of things I may do before I release V1.3.1.
- A folder containing all the MSU-1 files if you want to enable that feature in YSQ (it only works in BSNES and SD2SNES. It doesn't work in Bizhawk despite that using a BSNES core and I don't think it works in ZMZ if you use a BSNES core with that).
Anyway, regardless of whether you're going to be a beta tester or not, I hope you guys enjoy V1.3.1 of YSQ!

Note: I don't recommend playing YSQ V1.3.1 with a V1.3 save because there were some bugs in V1.3 regarding saving that I had to fix. If you do play with a V1.3 save, then you'll see this screen:
If you see this on start up, then YSQ will modify some SRAM addresses in order to prevent some of the more major glitches.
--------------------
My Hacks:
Mario's Strange Quest V1.6
Yoshi's Strange Quest V1.3
/
V1.3.1 Beta 4.6
Mario & Yoshi's Strange Quests
(7/3/2021 Build)
Other stuff:
My SMW/SMAS/SMAS+W disassembly
Yoshifanatic's Discord Server
: A place for fans of my stuff and/or Yoshi to chat with others.