h2643 told me to post this here, I hope this is alright.
Around this time last year, I created the SMBX NPC Editor. I know you guys are fairly late into the collab, but I actually just
today
found out about it. Go figure right? Anyways, I hope someone will find this useful ;-)
This tool was made
before
Wohlstand's PGE one was fully functioning. (it was just an empty shell).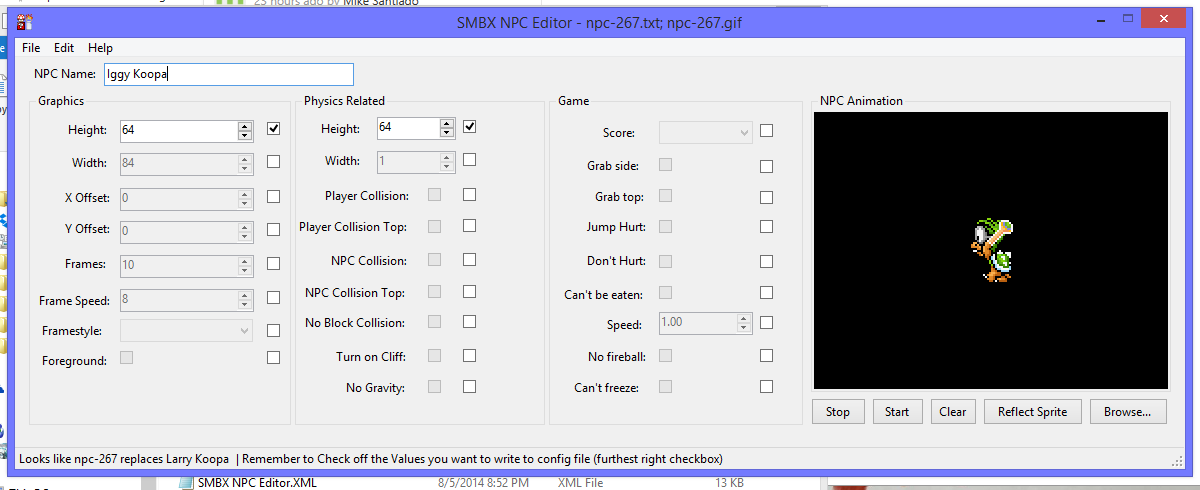 The program does exactly what you expect it to: edits the npc-*.txt files SMBX uses. And it does that well. You may think: well this is useless now that PGE is around, but if some people don't want to use PGE (for whatever reason) and/or don't want to launch the entire PGE project just to do one last minute NPC edit, this is for them.
Features
-Open NPC files, edit, save them
-Show an (optional, you can disable it) NPC preview on the side.
-Auto insert default values for NPC's.
-Only writes the enabled values (right most check box).
-Open source (horridly messy source code though, it was rushed but it works).
The latest versions support an INI system that uses Wohlstand's config pack INI files to work. These can be changed/reconfigured however you want. But they also require that these files be placed in the same directory as the NPC editor.
NOTE:
This program was coded in C# using the .NET framework. While most computers have .NET 4.0 preinstalled, in the event the application doesn't launch at all/gives you an error, you may be missing
this
.
Compatibility: Windows XP+ (yes, works fine on Windows 10 and even works very limited under Linux using Mono).
Latest .ZIP
1.3.1.0 (portable, basic animation, quick editing)
Original SMBX.org thread
The very bad and messy source code.
Enjoy!
--------------------
~