make a boss of this guy
now
I heard he has a power to crush wood. That will be the extraordinary main mechanic of the fight (which will totally have custom music).
---
allow shy guy emojis in post footers you cowards!
Yeah. But in the hack in The Void I built great, Dark Engine powered by Dark Souls of equal hue and I shall harness their power to create an immortal army to punish and cleanse this pathetic world - Mushroom kingdom. That doesn't mean I can normally crush wood. I can also fire beams of Dark Power. In this instance, I look like Legion: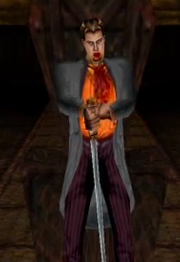 Later, after first phase beat, I will grow into a monstrous beast that can shoot purple streams of dark energy. I will shoot multiple homing purple streams of dark energy that follow Morton around and one deadly concentrated beam of dark energy which is my strongest attack in this form. The creature has the head of a man and a pinkish brown body shaped like a worm & is covered in large spikes (or maybe I represent a large dark soul or soul worm.) Like this: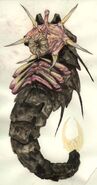 --------------------
This is so insane! I've got powers, and I'm fighting supervillains!
-Rena Rouge
Oh wow, he actually has a concept. That's like the best thing I've ever read on smwc.
---
allow shy guy emojis in post footers you cowards!
Right...
--------------------
( ͡° ͜ʖ ͡°)( ͡° ͜ʖ ͡°)( ͡° ͜ʖ ͡°)( ͡° ͜ʖ ͡°)( ͡° ͜ʖ ͡°)
Current Project:
Vanilla Rendezvous, my project. Click here to see the C3 thread.
Finally back and more active than ever!
Go watch GamingWithDrew at http://www.twitch.tv/gamingwithdrew
My Backloggery
Originally posted by ForthRightMC
I think I'm acting as a boss of bonus world. I act like Legion in "Shadow Man" computer game.
legit scary boss fight dude
10/10 idea les do itt
Honestly we're really out of ideas, so it probably should be some user that has been meme eaten xd
"out of ideas" for boss fights
Nin, I need progress in your sublevel.
Oh yeah, I forgot about that. I ran into a problem with my gimmick (upside-down lava + Ice physics) and am trying to make it work. Expect a screenshot today or towmorrow.


(I'm really sorry about being inactive. I'll try and stop procrastinating and get this done.)
Auto-Scroll + Ice Physics = Horrors
EDIT: Sorry for the Blurry/J-PEGish pic.
I think it needs more tweaking right now. It's just composed of moving platforms and no enemies targeting you at all. The fact that we'd go through this whole autoscrolling section without facing a challenge makes it boring. I'm not sure whether that room is on its beta version (probably it is, given the date it was posted), but if it isn't, then you have some fixing to do.
Have you tried the PrintScreen key and changing the format? My images don't look blurry if I do that.
--------------------
Twitter
Sample level
I'm experimenting with the combination of jungle/desert. It's one of the hardest blends I got my hands on, but I think I have a reasonable set now. Any ideas for changes, new decorations are really appreciated!
Maybe some SMB3 overworld desert trees in the background and dead shrubbery in the foreground.
@bot nin and fornaxus I'll need more progress in both of your sublevels.
Nin having tested your level which is kind of insane and with the buggy lava; IMO you should give it a big tweaking.
Sorry, I've been busy with C3 and Project Demo. Expect an Update in the next week or so.
well i haven't heard of fornaxus in 4 days so i'll assume he's dead..?
Not exactly dead, but extremely busy with university. I can't promise to be finished within the deadline, but I'll try to sneak some time inbetween learning for exams to finish this one. What's the desired length of one room (in minutes)?
With a week of no progress shown it's time to remove your claim, Nin. Sorry pal.

Also Fornaxus like 0B screens is fine.
Woops
I remade this level, 3 times? I had a lot of trouble getting a nice feel to a forest/desert blend level. This is about 66% of the level and I'm quite happy with it. Sorry for the lack of updates! My exams are now done so expect this finished before friday at last.
A bit too much grass, other than that it's turning out nicely. I like those trees in the BG.
Oh and maybe you should use Bob-Ombs more thru the level, there's only one and it doesn't fit.
v1.0
Here's the finished level with more bombombs and slightly altered design/palettes for the first part.
EDIT:
I'm aware of multiple sprite memory issues, for example when the wigglers show up. I'll try to get that fixed in the next version

Also I noticed there is one pipe which has the wrong palette.

EDIT 2: Maybe this came over as an unfinished version, but I'd still love some critique if the general difficulty/direction of the level is good ^.^
Forum Index - Sunken Ghost Ship - Old Contests & Events - Morton's Empire - [DONE] 5-BONUS: The Void