*sigh* Story time.
I've been procrastinating. I'm not sure why I was procrastinating, but at the same time, I know exactly why. It was time to make the swamp background.
I subconsciously dread making backgrounds - partly because it's so much work, but mostly because of the disparity between the product and my vision. Unlike foregrounds and sprites, it's really tough to make them look exactly like what I have in mind, and I don't often succeed.
This issue is only worse when it comes to forests and swamps. I have a bit of a fascination with forest settings, and a strong sense of what I want to convey. (My levels for SMWCP2, VLDC7 and VLDCX were all attempts in that vein.) So it's all the more frustrating when I can't get things to look exactly right, and all the harder to start doing it.
Making
the forest background for world 1-4
was frictional enough, but for the swamp level I had been forming a vision in my mind for
at least four years
. (I guess I shouldn't have done that.) I'd been
taking photos and collecting images
of leaf backdrops, trees with interesting shapes, brushwood, riverbanks, roots and bushes, and I had this vision of it all coming together - and of course, knowing I couldn't live up to these expectations kept my from trying.
Despite all that, yesterday I started picking that project up again, and I was finally able to throw something together that at least works. It fits in with the rest of the backgrounds, it does get the "deep in the swamp" atmosphere across pretty well, and the water effect looks pretty neat - it's just that... it's nothing like I imagined. Walking around with this elusive vision in my head for four years, this here is pretty underwhelming. No complex roots or bushes or tree stumps or shorelines or boathouses - two trees and basic bushes is all LM could handle.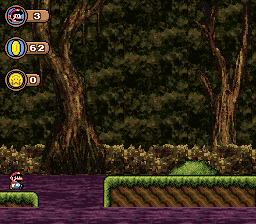 The downside is that it looks a little grainy and washed out, and it's also really hard to work with palette-wise. I'll probably be redoing it, but at least I have this to fall back on. It's
something
now.
Don't get me wrong:
this does not mean that I don't like making this hack, or that I'm giving up, or that I'm asking for help.
I've just been having a particularly hard time doing this, so even though the outcome is not perfect and probably temporary, I wanted to show what I got. And also let you guys know what's been taking me so long.
Look forward to the remade version of this, I hope!
--------------------