Thanks for the encouragement, you two!

I think that worked.
Originally posted by Deeke
In other news, may I ask how you accomplished the "beam of light" graphic in your forest tileset? It's a very smooth transition from transparent to totally invisible.
Sure! The beams are single-color stripes on layer 3, with HDMA to replace that specific color with a white-to-black gradient, and color addition to turn it into a white-to-transparent gradient.
---
I gave the background another shot today, and it's actually something
good
now.

Not to go overboard on the pathos, but you could say today is the day I've been anticipating since at least 2014. It's still a far cry from what I imagined when I went to the riverbank and took all those photos, but it's much less far off than it was yesterday.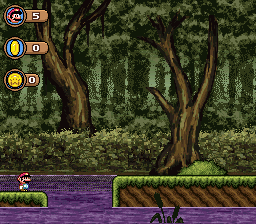 (animated, ~14MB)
Though after looking at it all day my judgment is clouded as hell, so... what do you guys think?
---