Hello ladies and gentlemen! I hereby present to you the first official demo of Extra Mario World, which when finished will be the greatest ROM hack of all time. This demo is the result of a lot of hard work, dedication, and loss of sleep. It features 5 levels, lots of high-quality custom sprites, 3 difficulty settings, great scenery, atmospheric music, and a pretty freaking rad boss at the end. It also has somewhat functional co-op.
This hack is being developed by Team Välfärd, consisting of me, the programmer; PercentN, the background artist; Eminus, the sprite artist; and Ruberjig, the composer. Huge thanks and props to everyone for putting so much effort into making this a thing.
Guessing you guys wanna see some screenshots too, eh?

CO-OP GAMEPLAY VIDEO
DOWNLOAD LINK
Check out our
WIP thread
if you wanna know more.
Edit: So uhhh... the giant rock slab at the end of the castle is actually the boss door. I may have forgotten to make it look like one, but you can enter it by pushing up.
---
We're looking for level designers to work on
Extra Mario World
!
Impressive screenshots, I might give a try whenever I have time (I'm working on a C3 thread and my time is running up).

Those red Rexes looks so badass I wonder how they behave, when I play your demo I'll give you some feedback, that's for sure!
yo, I played your demo and a thing happened and I can't play anymore.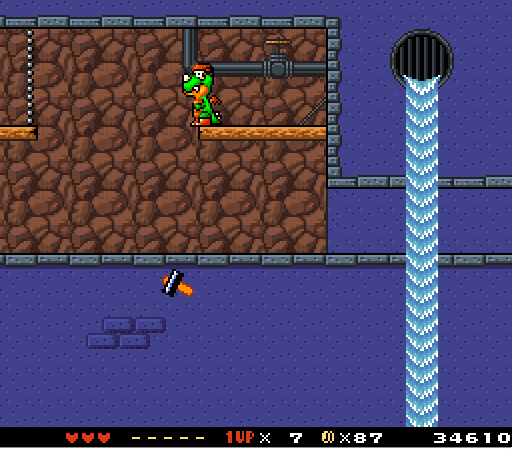 I collided with the waterfall, pushing me down off-screen and I cannot do anything (I'm playing on BSNES if that's any importance.)
I actually enjoyed what I had played so far (first level and the second), this is impressive coming from amateurs. I went into it with very high expectations (because of your claim that this will be the best hack of all time) and I was pleased. The levels weren't overwhelming, you didn't put sprites at every screen possible and it was just, fun I guess. Please, once this is finish, do not let me down.
If you're in need of testing (or maybe even level design??), I could potentially help if I have the time.
Thank you for reporting that. It's never fun to hear about bugs and errors but eh, it's still useful. What is fun to hear though is that you like our stuff! And don't worry, we will all do our best to reach our goal of creating the best hack ever. So.. hopefully we won't disappoint. Anyway, I'll definitely consider hiring you as a tester in the future!
---
We're looking for level designers to work on
Extra Mario World
!
Found another bug while replaying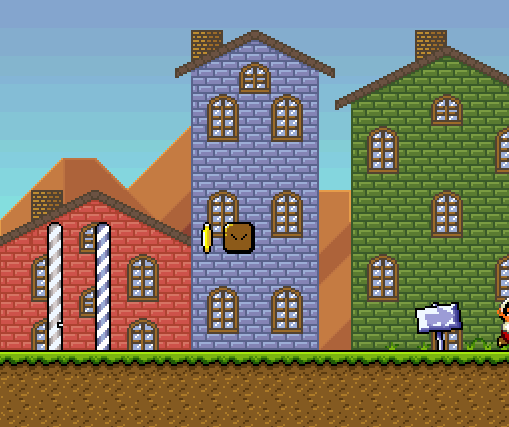 When I bring a p-switch (I assume it will happen with every other item that can be carried) to the side, Mario will get stuck and run infinitely.
Well, this was a surprisingly fun game. The levels weren't too hard, the custom enemies were well designed and made and the levels did seem to feel semi professionally designed.
That said, there was one issue that bugged me here. Variety was pretty much nil.
You had shell kicking Rexes, hammer Rexes, normal Rexes and burly looking Rexes. Yet as far as I could see, those were the ONLY enemies you saw in the first five or so levels. Contrast to say, a real Mario game (like Super Mario World), which had all this in Yoshi's Island alone:
Koopas
Shell-less Koopas
Piranha Plants
Rexes
Banzai Bills
Chargin' Chucks
Monty Moles
Spike Mines
Cheep Cheeps
Net Koopas
Podoboos
Wooden Smasher
Your levels need a bit more variety. Not enough to be overwhelming, just enough to keep people from feeling like things aren't really changing, since at the moment, only the graphics and music seem to seperate the first few levels.
--------------------
For gaming news and Wario discussions, check out
Gaming Reinvented
and
Wario Forums
respectively.
As for Mario's Nightmare Quest? Well, it's currently on Fusion Gameworks, ROM Hacking.net or the GCN at the moment.
what the hell
Originally posted by cheat-master30
Variety
This is an interesting point. We rushed the demo quite a bit to get it out in time for C3 and ended up cutting 4 enemy sprites. They will probably be done in a few weeks and should add some more variety to the early levels.
Originally posted by Cynook
What did you do? No seriously, how did you get that to happen?
---
We're looking for level designers to work on
Extra Mario World
!
I'm not going to lie, I have no idea.
Can you reproduce the glitch?
Originally posted by PercentN
Can you reproduce the glitch?
Sure, now this happens. And now the Rex's frames are missing while climbing:
It is caused by going into one of the chimneys.
So did a quick play of it. This is really worth mentioning.
Though I'd also like to report stuff about this.
Cutoff appears after scrolling to the koopa after Mario dies.
Okay. I don't wanna come off as edgy, but coming up here as the koopa is literally impossible.
Running off the screen here got me stuck here doing running frames.
He in the ground stuck
I survived as the koopa. FINALLY I can go offscreen and beat the le-
dies*
I didn't know you had to press up here... This looks like the other walls used in this level.
>beats boss
WOO BEST REWARD EVER #2glitchy4me
Also a really major bug: When the koopa hits an object, it affects Mario even though Mario hit nothing...
Nah honestly, I liked this hack and its ASM and graphics. I can't wait to see more progress on this ( 'v')b Keep it up Team Valfard!
--------------------
What-A-Blast! - My WIP Super Mario World hack
**Layout by Erik557
Alright, thanks for reporting all that. I'm gonna do my best to fix it, of course. I am aware of the bugs involving player 2 but had no time to address them before C3. I decided to leave the sprite in anyway to let people see what we have so far. He's gonna get a major overhaul next patch.
Originally posted by Ruberjig
>beats boss

WOO BEST REWARD EVER #2glitchy4me
What emulator are you using? Admittedly I've only tested on snes9x and BSNES+, but I've never seen that before.
---
We're looking for level designers to work on
Extra Mario World
!
I love this. It's a bit buggy and carrying the Koopa around is kind of tedious, but it's super creative.
A couple of bugs I found:
1) The Koopa doesn't follow Mario inside the sewers. Dying in there results in a softlock (I guess because the camera fails to find the Koopa).
2)
"Oops" indeed. The regular status bar shows up for a frame when you close the message. Also, the ? block disappears after a hit.
Originally posted by Cynook
what the hell
And I got this as well. BSNES, same level.
Update: May 5, 2016
I enjoyed it, although it was a little rough around the edges. Level design wise, I liked the first stage the most. The other ones were a bit clunky imo. I would suggest moving the midway point in the castle to the pre-boss room seeing as the boss is relatively tough and the current midpoint is very early in the level. Having to redo the second section every time got pretty frustrating. The koopa is kinda annoying as well; most of the time it just got stuck somewhere or wandered into the first available pit. Playing as him feels sluggish and janky, mostly because the lack of a run button (?) and the wierd jump physics.
The new enemies are neat though. They caught me off guard a couple a couple of times, but they're good sprites overall.
Bugs:
- Sometimes, when I enter a stage, the koopa just walks off the left end of the level and dies.
- Speaking of the koopa:
is this supposed to happen?
- In the fourth stage, I killed one of the hammer rexes and the game teleported me
to a debug level
. It acted like I was entering a door, complete with the sound effect.
I encountered most of the bugs mentioned above as well.
My chimney corruption looks different
, but I assume that's the same bug. Also, some of the instruments in the new compositions sound a bit detuned.
| | |
| --- | --- |
| Pages: 1 | |
Forum Index - Sunken Ghost Ship - C3 Museum - Winter 2016 - Extra Mario World - Playable Demo