Hi. I'm definitely not an expert at ASM or anything else of the sort, and I most certainly don't know how we could utilize anything I'm about to talk about, but I just wanted to share an idea that I thought was interesting.
To start off, SMWcentral's community has made ROMhacks utilizing the SA-1 chip to make SMW faster and make amazing patches like No More Sprite Tile Limits. Others have used the Super FX chip for, well, cool effects.
I was googling "sa-1 snes" to find out more about it, because curiosity and stuff, until I found
a list of SNES enhancement chips
.
I haven't seen anyone mention half of these chips on this site, and I wanted to just show everyone what they haven't used yet.
Originally posted by Wikipedia
The Cx4 chip is a math coprocessor that was used by Capcom to perform general trigonometric calculations for wireframe effects, sprite positioning and rotation. It is known for its role in mapping and transforming wireframes in Capcom's second and third Mega Man X series games.[2] It is based on the Hitachi HG51B169 DSP.
This is an image of what the Cx4 chip is capable of. This is a test screen with basic, differently-colored wireframe models. I actually don't know if the Super FX chip can do this too, but it looks pretty cool nonetheless.
Originally posted by Wikipedia
The DSP-1 is the most varied and widely used of the SNES DSPs, appearing in over 15 separate titles. It is used as a math coprocessor in games such as Super Mario Kart and Pilotwings that require more advanced Mode 7 scaling and rotation. It also provides fast support for the floating point and trigonometric calculations needed by 3D math algorithms. The later DSP-1A and DSP-1B serve the same purpose as the DSP-1. The DSP-1A is a die shrink of the DSP-1, and the DSP-1B also corrects several bugs.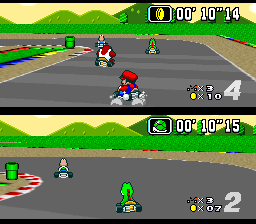 Okay, so it's a coprocessor that makes for whatever mode 7 scaling is and rotation. From what I understand and can see from the screenshots, you can have quite a few models with textures, however simple they may be.
Originally posted by Wikipedia
The DSP-2 can only be found in the SNES port of Dungeon Master. Its primary purpose is to convert Atari ST bitmap image data into the SNES bitplane format. It also provides dynamic scaling capability and transparency effects.
It makes for dynamic scaling capability and transparency effects. I don't know what "dynamic scaling capability" is but I'm assuming it has to do with the scale of the size of a model or sprite? Transparency effects is pretty much self-explanatory, though.
So, now that you know what different chips were used for the SNES, aren't you kinda bummed out that nobody's inserted these chips into SMW yet? Sure, we have SA-1 and Super FX, but I've only seen
one forum
showing off things that we've seen from the screenshots we saw earlier, and it doesn't even have detailed/textured models like the other chips pulled off.
As I said earlier, I have no idea how anyone would make a patch or something to add these chips, but when that day comes you know a lot of amazing ROMhacks will be made.
What are your thoughts?