I don't know who that anime girl is. But she looks good 8/10.
Blue Mario neck-deep in blue soda? 7/10
If that blue stuff is soda, it's probably berry flavored. I WANT IT!

--------------------
"You painted my paint job! PREPARE FOR SURGERY!"
- Knockout ~ Transformers Prime "TMI"
She's cute. I like her. 9/10.
I recently added to my random avatar, which isn't available on
stupid.li/random/
, though I do have a smaller set of images that I'm using in my avatar uploaded there as well.
However, I'd like you to judge a specific avatar of mine, which I'll post below.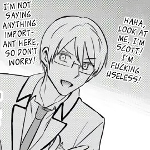 This is a thing that's happening, now. Achievements in old video games.
Thank you for the layout, Erik557.
[19:24:05] <~Impetus> i only got staff because i own # and BotServ on irc
If not for respect, but dramatic effect, take on the face of Guy Fawkes.
sElF dEpReCaTiOn
I don't get the reference, sorry. 2/10.
Amazing.
A change of scenery is always nice. AWESOME avatar made by
TheMorganah
during Summer C3 2019!
Currently working on a lot of SMW hacking stuff, including my own hack and another secret project featuring a certain yellow fella...
What's wrong with that forehead? Weird, 7/10
This guy is working for one of the Affiliates since 2018.
Notch is pretty dang cool, especially after he guested on that one episode of the Official Podcast (in which he was utterly hilarious). 10/10 for me.

--------------------
Science teachers are too afraid to teach their students about the element of surprise.
8/10
Looks like a spy or detective with a gun. They have a serious look on their face like they're about to go into pursuit and I like it. It's just two colors, but it works really well.
9/10
Out of all your pics, this is my favorite one. I really love her hair.
---
Go rate whatever pic you want!
---
Calling Tim Follin a musical genius would be offensive to him.
These are some really silly Moe faces. I like them all, but I think I get the most amusement out of this one, which I give an
8/10
.
Moe's goofy expression here is hilarious, and Homer and Carl just staring right at him adds to the humor.
--------------------
What is a Lunar Magic, and can I eat it?
E-man38
I really like this profile picture; It's really nice to look at, and the character depicted looks cute. Overall, it's a really nice image to have for a profile picture. Certainly a 10 / 10!

That GIF remembers those times when i wasted time in those nets. 10/10
This guy is working for one of the Affiliates since 2018.
Forum Index - Donut Plains - General Discussion - Forum Games - Rate The Profile Picture Above You