Originally posted by IanBoy141
Originally posted by Decoy Blimp
10/10 NO FUTURE
I love that quote, i would really like to play SaGa Frontier once tho ;_;
http://www.mariowiki.com/images/thumb/8/80/SMO_Shot_-_New_Donk_City.png/800px-SMO_Shot_-_New_Donk_City.png
I actually remember that from the
Wily Capsule boss in Brutal Mario
, though... didnt even know it was originally from SaGa Frontier tbh.
Anyway, for a analysis on your screenshot, its nice, but is it even for a game? If its not, then I cant judge. If it IS, though, then probably a 4/10 due to it not being very interesting overall. Sorry.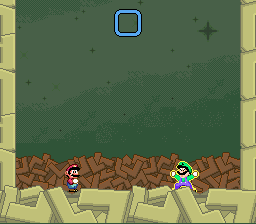 Brother vs Brother: Also known as the boss that SHOULD`ve ended Brutal Mario... Goddamnit, carol, why do you have to be so slow? lol
Not being insensitive, btw, just a joke.
EDIT: Yeah, just found out that the game`s supposed to be Super Mario Odyssey, but I think I was a bit harsh too, so I`ll just give you a 6/10 instead.