There is a prophecy, carved in sacred stone (which was incidentally repurposed to become a decorative plaque only decades later), that tells of an ancient prophecy. A dragon, perched high above a mountain so badass you probably haven't even heard of it, grows hungry. As this hunger grows, so does its patience not grow. Rather, it shrinks. And when that patience shrinks as its hunger grows, it must feast.
The prophecy (the one from before) claims that the only way to shrink the dragons hunger and allow its patience to then in turn grow again is to soothe it with melody. But no merry melody will suffice. As this dragon, perched high above its mountain is so high up that normal music cannot pierce the sky and reach its badass ears to soothe the beast. No, piercing the sky and reaching the dragon's ears requires more than a mere merry melody. It requires a constant flow of melody. A stream, if you will. Decorated with many layers and toppings, like a pizza. a…pizza stream, if you will.
Enter the code of the dragon, a compilation of music designed to reach the highest heaven, the lowest hell, the dirtiest basement and even your neighbor if you feel comfortable sharing it with them. But good luck mustering the courage, for to endure the cacophony of arranged chaos contained within is to open a pandora's box to the soul, to break the chains of mediocrity and simple, 4/4 rhythm to expand and truly understand what it means to be music. To brave the sounds of true anarchy and agnostic belief in the norms of the culturally accepted is to truly face yourself, a carbon copy similar in every way except for one: the copy is listening to this album and that makes them substantially cooler.
So as you read this, and you feel the goosebumps on your arm start rising the shirt you're wearing, and you start proclaiming each breath and blink in your mind before they happens, and you start thinking about what a paper cut on your tongue would feel like, it's time to step outside of your own body, and perch yourself onto the mountain of badassness (like the dragon, from earlier), close your eyes, open your ears, and press play. Because with the sounds you're about to hear,
there's no turning back.
Presenting..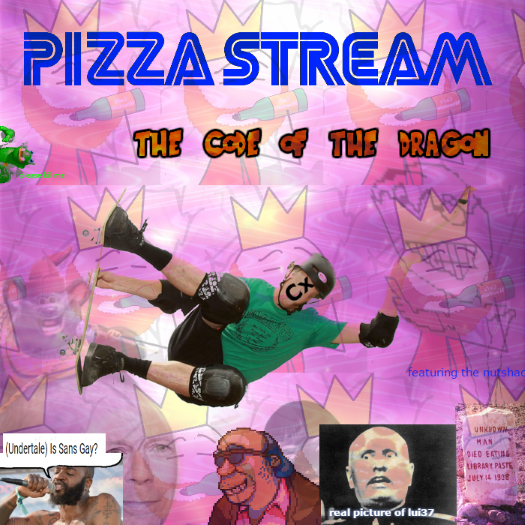 Tracks:

Download all the tracks in one zip here
In depth track by track description:
the album begins with
snn's birthday
, an arrow of musical brilliance designed to puncture the sky and have it's voice heard
LUI FINISH ICEY OU IITALIAN DICK
, the brunt of the force of this album follows through with the momentum of
snn's birthday
by crashing its way through with it's hammer style percussion and hefty arrangement
SEPTEMBER 30
is also like
LUI FINISH ICEY OU IITALIAN DICK
because it also has arrangement and percussion, only it replaces a hammer of speed and agility with brunt force and attacking strikes of power and danger
by
when she succ u but u cum too early
, it's over. not the album , we're just getting started I mean the initial strike of sound burrowing its way into your brain and out your mouth in the words "wow, this is getting good"
as a crescendo increases its volume to get grander (or something like that), this album does the opposite.
lui defeats mussolini but at what cost
is probably the worst one and you might as well skip it or something. maybe just listen to
SEPTEMBER 30
again idk
banjo cockzooie
does what it can to salvage the album after
lui defeats mussolini but at what cost
did such a good job ruining it by bringing us back to form. a real knock-out, literally. this track stings like a jellyfish and flutters like a Yoshi with the flutter jump ability (like and favorite if you get that reference)
by
I'M NOT
, you're probably waiting for it to end. that's why
I'M NOT
is here to help bring new life into the latter half of the album, by reminding you of what it feels like to be a kid, staring at the moon and questioning the futility of the world around you as you smoke cigarettes and listen to The Cure (but not too loud or your parents will wake up)
while
I'M NOT
is content with bringing you nostalgia,
pest control
is all about moving forward. this progressive, some would say criminally ahead of its time track forces you to look at music not as notes on a piece of paper, but as a religious experience capable of bringing you transcendence into an astral plane nobody even knew existed before
pest control
showed them
remember the dragon thing I was going for earlier? well
Lui finish ur fucking ogg
is the song that finally tames the wild beast. it's soothing, monochromatic approach to the desolation of choice and free-thought in an oppressive world of hopeless abandon drives the dragon to fucking kill itself, which is too bad because it would've loved
when the cold hits your feet like a dead moose meat, that's eh
!
as I said just then,
when the cold hits your feet like a dead moose meat, that's eh
is the cork in the ship-in-a-bottle of this album. It wraps everything up in a neat little package, and acts as not only a callback to the songs we just heard, but as an expanding outlook into what the future holds.
enjoy!