What's a .bps file?
A .bps file is short for Binary Patching System, a file in which all the edits to a ROM are stored.
It's the format required to upload Super Mario World hacks to our Hacks Section, as this prevents the distribution of Nintendo's copyrighted material.
Where do I find a .bps patch?
You will find .bps files everywhere around this community, from betas or demos to entirely new SMW ROMHack experiences.
All hacks hosted in the
Hacks Section
are in this format.
How do I apply a .bps patch?
What you will need:
- An unmodified, "clean" Super Mario World ROM. If you are unsure whether your ROM is clean, run it through
this
program!
-
Floating IPS (Flips)
- An emulator, we recommend
Snes9x
- The .bps patch you want to play! I will use
this hack
as an example.
Place the "flips" .exe file, Snes9x and your clean Super Mario World ROM in the same folder somewhere safe, where you won't have to move them away from later. You can put the patch anywhere, including in the same folder, it's not important to keep it.
Here's an example of these files: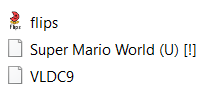 Now, to start things off you will have to open Floating IPS (aka Flips) by double clicking it. It should look like this: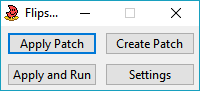 Once open, click on Settings. There are a few things we can set up to make .bps patches a breeze to use later on.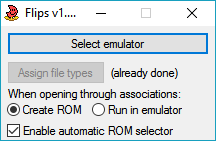 First, click on the "Assign file types" button. This will make all .bps patches open with Flips in the future, meaning you can simply double click them and be done with it!
Secondly, tick the box that says "Enable automatic ROM selector". What this does is allow Flips to remember where your original, clean Super Mario World ROM is located after you've selected it once, which we will do in a little bit.
Lastly, click on "Select emulator" at the top. This will open a file browser window asking you for the emulator you wish to use. Navigate to the folder you saved Snes9x in and double click it. If you places Snes9x and Flips in the same folder as I suggested earlier, this file browser will open in just the right place and you will just have to double click on Snes9x.
These three will only work for as long as you don't move the Flips program, Snes9x or your clean ROM around, so make sure to create a dedicated folder for them!
An optional step you can make is to change the action to do when opening a .bps file from "Create ROM" to "Run in emulator".
If you only plan to play our hacks and don't want to mess with the ROM files in Lunar Magic or anything, select "Run in emulator". This way, you will be able to double click .bps files and instantly play them in Snes9x in the future, patching will not be a hassle at all!
If you do want to look into the ROMs though, keep it on "Create ROM". You will be able to play these ROMs later anyway, it will just be a few more clicks.
Now that we finally have all the settings out of the way, let's get to applying your first .bps patch!
Close the Flips Settings window if you haven't already and bring up Flips' smaller main window again.
Click on the aptly named "Apply Patch" button to open our first file browser window, asking you to select the patches you want to use. Look for and double click the .bps patch you want to use, in my case VLDC9.bps.
Then, the program will open another file browser, asking you to select your unmodified Super Mario World ROM. So do that, it should be in the same folder as Flips if you followed my suggestion at the top. You will only have to do that this one time, thanks to the settings we changed earlier!
If you're given an error message here, that means your Super Mario World ROM is not clean. Try grabbing one from another source and try this step again!
If your ROM is clean, one final window will open. This will be either a last file browser or your emulator, depending on if you chose "Create ROM" or "Run in emulator" earlier.
If it's Snes9x, you're good to go and play the game now!
If it's another file browser, just choose a folder you want to save your new, patched ROM in, let's say your desktop, and hit enter. You're done, your patched ROM should now be exactly where you put it!
How do I play the patched ROM?
If you already know how to play ROMs with an emulator, you can skip this part! If this is your first time, I'll explain it to you:
Loading the ROM
We're gonna use Snes9x, an emulator for SNES games. It's able to play any SNES game commercially sold, but has no issues playing ROMhacks, so long as the ROM is written well.
If you have chosen the "Run in emulator" option in Flips, Snes9x should open the hack immediately when you double click any .bps patch. Skip to
Controller Mapping
in that case.
If you chose "Create ROM", start by opening Snes9x through a double click. In the menu at the top of the window that will open, select "File" and then "Load Game...", as seen here: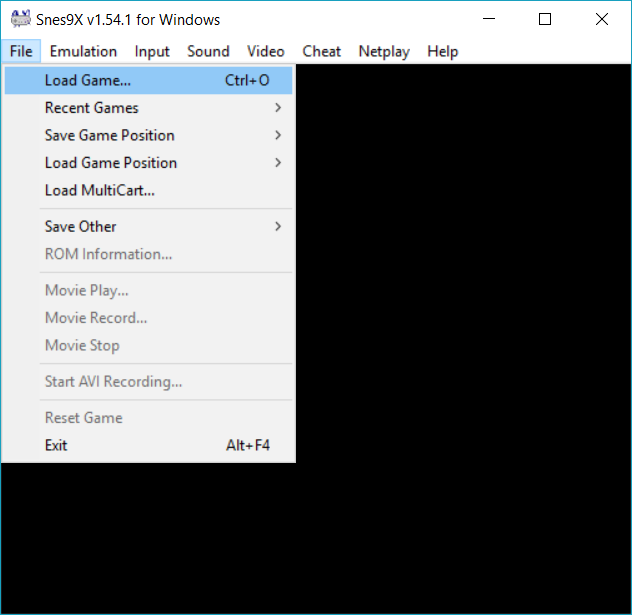 This will open a file browser. Navigate to the folder you saved your patched ROM to earlier and double click it to open it.
If patched correctly, the game should start running and greet you with the classic Nintendo Presents screen. If the game doesn't start, the .bps was broken and will not ever work, guaranteed.
Try downloading another hack if so, though all the hacks hosted in our
Hacks Section
are verified to run without issue!
Controller Mapping
Now, if you want to change the controller mapping, click on "Input" in the Snes9x menu and choose "Input Configuration...", or simply press Alt+F7.
There, choose which controller you wish to configure using the dropdown in the top left labelled "Controller" and click on the boxes below to change the respectively mapped keys. Most Gamepads will work out of the box for this.
Press "OK" when you've got it all setup and you're done.
From here you just have to know how SMW works to play, but that's not a part of this tutorial!
How do I create a .bps file?
Creating a .bps patch yourself requires you to have a modified ROM to base the patch on, such as your own hack, in addition to a clean Super Mario World ROM.
To create one, open
Flips
and, on the menu, press "Create Patch".
A series of file browsing windows will open:
- In the first one, select your unmodified Super Mario World ROM.
- In the second one, your modified ROM, aka your hack.
- In the third and final one, give your .bps patch a name and choose a folder to save it to.
Your .bps patch should now be exactly where you told it to be, read to upload and post anywhere.
However, before posting it online, make sure you created it correctly by applying it to your own clean ROM once more and checking if the resulting ROM plays as expected in an emulator.