Hey guys!

Much like I did for last years VLDC, I'm going to be participating in this year's VLDC. So, what kind of level idea did I come up with this time? Instead of an abstract themed level like I did last year, I decided to make a level that combined two opposite themes that wasn't something super cliche like fire and ice.
My level, named Urban Jungle, is a city/jungle level (that could also pass off as a prehistoric themed level), where you're hopping across stone skyscapers and dodging the local creatures. Here are a couple pictures of my level: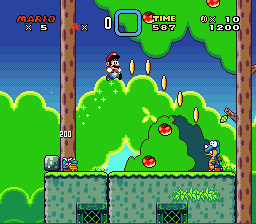 Mario doing his best Tarzan impression. Maybe.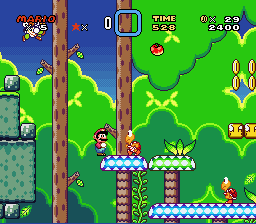 Compared to Triangle Dimension, Urban Jungle has a lot more visual variety to it. What it lacks in creativity, it makes up with variety and attention to detail.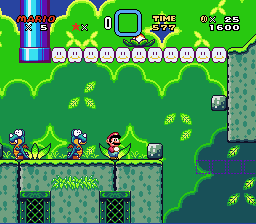 You know, if you ignore the enemies and hazards, this places seems like it'd be a much nicer place to spend one's vacation than at Chuck's Locker Room.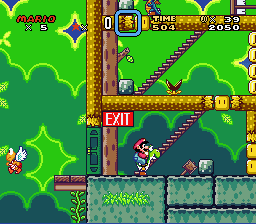 Sorry guys, my level is currently under construction. You guys will be able to play it soon once I build more apartments for all the locals.
Some parts of my level are still under construction.
In terms of difficulty, I'm aiming for my level to be easier than Traingle Dimension, at least if all you're going for is the normal exit. Getting the secret exit, all 5 Yoshi coins, or the moon will be more of a challenge.
So, what do you guys think?

Urban Jungle V1.0
Also, do you guys have any suggestions on music I could use for my level? I'd be nice if someone made a prehistoric remix of SMW's melody, but I doubt anyone is going to make that.
I'm going to need to think of a fitting track to use in my level.
I had an idea for what music to use, but I'm not too sure how fitting it is.
Fun fact: The original idea I had for my level was to make a level where everything would act or be the opposite of what it normally would be, but I felt that would be a much better idea to do for one of my future hacks, where I'm not restricted. Trying to do that under vanilla restrictions would have been too inconsistent for my liking.
--------------------
My Hacks:
Mario's Strange Quest V1.6
Yoshi's Inside Story (on hold)
Yoshi's Strange Quest V1.3
/
V1.3.1 Beta 4.6
/
Latest Test Build (Mario & Yoshi's Strange Quests)
Other stuff:
My WIP SMW/SMAS+W disassembly
Yoshifanatic's Discord Server
: A place for fans of my stuff and/or Yoshi to chat with others.