File Name:
Single screen
Submitted:
2017-02-13T05:07:08+01:00 by TheBiob
Authors:
TheBiob
Type:
Includes GFX:
No
Includes Hijack:
Yes
Featured:
No
Description:
This will make the game only show one screen and scroll to the next when the player reaches it.

Uses 5 bytes of freeram as well as a hijack to disable the screen barriers.

Notes:
- The camera must start inside (or close to) a screen it will otherwise cause graphical glitches.
- The code does not work with vertical levels.
I'll let this gif speak for itself:

Also, depending on the starting position, the screen might glitch up and display bogus tiles. Not sure if that can be fixed though...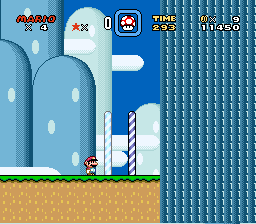 Other than that it seems to work fine, so please fix the issue and resubmit!