Watch out for a n00b
this is a edit for my first sprite and this time, I did a boss of dry bones!

here is a vid: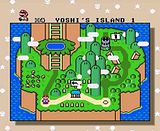 * he has 6 HP
* jump on him will make him be crumbled and jumps a little and goes slightly to the right.
* he is faster at recover himself
* if he has 6-4 hp, he will act like a normal walking dry bones.
* at 3-1 he will throw bones and follow you and reacting it better
* he toss his bones much faster and the bones is faster too
* when killed, he will fall of the screen and you win the level.
I need to do some improvement:
he will damage when he is crumbled.
throw 2 bones at the time, one fast and one slow.
walk faster in normal mode
walk more faster in rage mode.
will not die by cape or star or even eaten by yoshi
you jumps a little if you jump on him
not bad for my first sprite? :3
@metalgearhunter: in bossbattle like this boss :3
otherwise, puzzle xD
I design that dry bones to be in puzzles, not to fight :3
---
Doing my own ExGFX.
STATUS: Making Wario Land 4 ExGFX beach set
If you take "THE BADDEST HACK I HAVE PLAYED" please say why it sucks ._.'