So, as many of you know, I've been hacking for a couple of years now, and have been a long time member. However, it is painfully obvious that I have a grand total of
0
completed projects to show for all my work. Why? because I suffer the same disease that most of us hackers are afflicted by: I can't seem to work on the same project for too long.
HOWEVER, I have finally pushed myself to go through with a project for once, and so I proudly announce what is to be my very first hack release: Saph and the Great Rebellion.
When I decided I wanted to start a new project, I had to think long and hard; if I wanted to make a hack that people would want to play, I'd need to create something that no one has thought of before. In today's hacking world, that is a very hard task indeed. However, I soon realized that one simple change to the fundamental SMW forumula would instantly seperate this hack from every other hack that's out there. But I'll get to all that in a minute.
First of all, the premise is this: Bowser's been having some financial cutbacks lately, and cannot support such a massive army anymore. So, he's had to lay off the entire Buzzy Beetle division. This causes great anger to the Buzzies, and so they go on strike, vowing to take on Bowser himself and earn their jobs back!
Now, here is the reason why this hack is revolutionary. You control Saph, an ordinary buzzy beetle. Being a buzzy beetle, he has a few limitations that Mario did not have.
He can't jump.
That's right, this is a MARIO hack in which the player cannot jump! However, fear not, for Saph has a few special abilities that Mario didn't have. For instance:
Being a buzzy beetle, Saph has the ability to climb EVERY SINGLE WALL in the game.
So now you see that even though you can't jump, you're not confined to the ground all the time. But as every Mario fan knows, Mario's primary means of offense is to stomp on the enemy's head.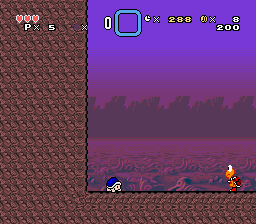 "Oh, no! It's a Koopa Troopa! What's a bug to do?"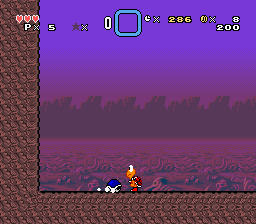 "Oh, I know..."
"...SHELL SLAM!"
That's right. It's too bad Mario didn't have a protective shell of his own during
his
adventures. Just run towards an enemy and duck-slide, and WAM! You'll KO the enemy. Also, if Saph is lucky enough to land on an enemy from higher up, then he can still KO them the old way as well.
(By the way, I am aware that the status bar's star is miscolored. I don't care, as the star will not be appearing in the final version.)
That's all I'll show for now. There is much more to come, but I figured I'd keep it a surprise for now...
<object width="425" height="344"><param name="movie" value="http://www.youtube.com/v/xYPAEMV-oQk&hl=en&fs=1"></param><param name="allowFullScreen" value="true"></param><embed src="http://www.youtube.com/v/xYPAEMV-oQk&hl=en&fs=1" type="application/x-shockwave-flash" allowfullscreen="true" width="425" height="344"></embed></object>
Here's a video to show some of this stuff in action.
Oh yeah, by the way, if you would like to support the buzzies' efforts to get a fair job with full benefits and a retirement plan, then use this userbar: