Thanks. And now, it's time for that mini-update, as promised!
I'm sure none of you expected this. Behold!
"Hmm... That looks interesting. I wonder what it does?"
"Ah! Can it be? Wings?"
That's right, the cape powerup has been replaced with the high-flying Parabuzzy powerup. (Also, please ignore the door in the above screenshots. As I have stated before, it is a test level, and it will not be featured in the final version.)
With his new wings, Saph can float down slowly from high-up places. Also, if you press the B-button right when you run off a ledge...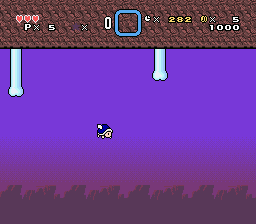 Whoosh! Saph takes off like a jet. It's very exciting. Saph doesn't have to crawl around all the time anymore!
Hmmm... it looks like that Paper Koopa is cruisin' for a brusin', as Saph is about to dive!
Also, in case you haven't guessed by now, this hack's GFX are styled after the Paper Mario Series. Here is a sample of some of the GFX that will be used in the final version:
That's all for now. Thank you, all of you, for expressing such great interest in my project. I will make sure that it lives up to your expectations.