[me] Crystal Chamber (patch is out now!)
Forum Index - Important - The 10th Annual Vanilla Level Design Contest - [me] Crystal Chamber (patch is out now!)
| | |
| --- | --- |
| Pages: 1 2 | |
Update:
Download the full version
here
!
---
Once again I'm late lol
This is what we've been working on. The idea is to turn it into a cave that'll make you explore around. Maybe more Soon™! btw yes I have a partner ;)
I'm looking for suggestions, mainly for the level name and music.
Will the disappearing mist a e s t h e t i c return? Find out Soon™!
---
mirannie-edit
Latest beta patch
Level video
Posted on 2017-03-09 04:25:12 PM
Originally posted by Hinalyte
btw yes I have a partner ;)
Who's that 🤔
Posted on 2017-03-09 04:25:31 PM
nice cutoff vines can't wait to see you in worst world
anyway there's not enough to here to really judge anything. there are like 3 other crystal cave levels tho this vldcx so you have some competition.
& the universe said ... /
Posted on 2017-03-09 04:35:20 PM
I hope that the fog actually is rainbow flashing fog instead of pulsating fog this time.
Posted on 2017-03-09 04:42:59 PM
The idea is interesting and it's very good looking!
Posted on 2017-03-09 09:37:54 PM
Posted on 2017-03-10 05:09:54 AM
oh it's THOSE types of crystal formations
Posted on 2017-03-10 08:07:40 PM
Oooooh! It's perfect! Shiny crystals in cave!!! I wanna see more of that later on, Hina-chan!!!

THEY [CENSORED] ME ;w;
You can also call me as
Kamek the Magikoopa
or
Kamek
, but not Kamekku, seriously.
Tumblr | Facebook | Twitter | カモン! | Avatars: Sash Lilac (Christmas version) | [insert stuff here]
---
Get pumped up
this Holiday season!
GO RANGE-I!
Posted on 2017-03-10 08:55:42 PM
i can't wait to play rectal sphincter level
music stuff
i will be the first user to reach 10,000 posts and never be a staff member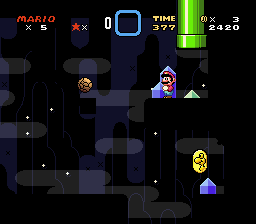 oops, looks like this cave is accidentally going abstract!
More screenshots whenever we finish the first section of the level. Stay tuned!
Posted on 2017-03-12 02:12:09 AM
Try it out now!
Screenshots: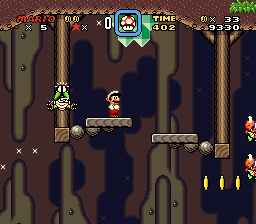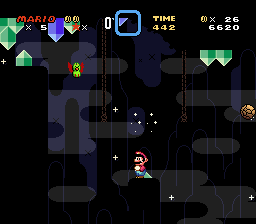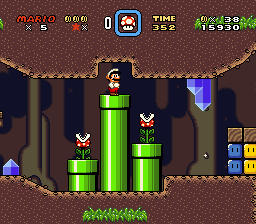 Made it in time just again, lol. We'd really appreciate feedback, since there's not much time left! Let us know if there's any bugs regarding the whole level!
To-Do:
- Decide on level name
- Decide on music
- Pizza
Posted on 2017-03-26 12:44:17 AM | Last edited 2017-03-26 12:46:09 AM by moo_we_all_do
Some parts with the ON/OFF switch (where the switch controls the blocks under it) can kill you if you get squished on between the switch and the block. (And the switch looks pretty cool too if you die there)

--------------------
wewlad
Posted on 2017-03-26 01:06:39 AM
That was cool, hah. At first, I thought it was just a kinda above-average crystal cave level until you completely caught me by surprise with the blackout effect.
Everything after that went great, I had no troubles during the entire playthrough and the layer 2 section was very nicely designed; I like the use you give to rocks + raising-lowering pipe. It was not very daring aside from the on/off gimmick, but nonetheless a very enjoyable little level!


And srsly dat layer 3.
Posted on 2017-03-26 01:41:34 AM
Originally posted by Hinalyte
To-Do:
- Decide on level name
- Decide on music
- Pizza
You should be done with once you finish those. Nothing much to say, it was very pleasant and fun to play. I loved the palletes and the sprite choices. GGs
Posted on 2017-03-26 04:32:25 AM
This level's nice. Don't see any problems in the pics.

--------------------
Your layout has been removed.
Posted on 2017-03-26 04:41:48 AM
After an eternity searching for the secret exit, I'm finally done!!! Great level overall, but there are a few things I'd like to mention:
-This jump is kinda annoying to do if you're big
, if you could raise the ceiling by one tile it would be great.
-Timing with the Parakoopas here is a bit weird
, they're usually out of the screen by the time they could pose a threat to the player. I might be misinterpreting something here though, I'm not sure.
-Those two Koopas areusually pushed out of the ledge by the rock here and end up doing nothing at all
, I think you could remove them and it wouldn't change much, to be honest.
-Rock here could be moved up/left a bit
, it can be really hard to avoid depending on when you jump since if you land on the edge of the platform it'll be really close to the player by the time you can react to it.
-Minor, but the Buzzy Beetle here falls off the cliff pretty much right after you see him.
-I found it a bit too easy to get locked out of the midway point,
this part might play better if you remove the rock around here and leave only the Chuck. It's also really easy to run into the rock near the pipe, I recommend removing it.
-There's not enough indication of the pipe here at the moment in my opinion
, I kinda happened to see it by luck and even then it took a fair amount of replays for me to randomly decide to wait around there long enough for it to appear. I think you could change the crystals' palettes here so they're slightly different from the regular ones, but not enough that it's obvious there's something there.
-Not sure if I like the current location of the secret exit door, normally having the secret exit path around halfway in isn't bad but considering the level is a bit more focused on exploration than the traditional Mario level the second trip is a bit tiring, specially since the player doesn't know which Yoshi Coin is replaced by the door at first. This might be impossible at this point considering how close to the deadline we are, but if you could move it to the first Yoshi Coin and expand the secret exit room itself a bit (which was pretty interesting, by the way) it would be nice.
Anyway, I really enjoyed the level overall. It's simple, both gameplay-wise and aesthetic-wise but it works really well. Most of the Yoshi Coin sublevels are interesting and the main sections are really well designed as well. It has a bit more nonlinearity than most levels due to all the sublevels you'll go through in order to get the secret exit but it's not overdone to the point it's confusing. Nice stuff as usual

Posted on 2017-03-26 04:42:00 AM
I'll give more detailed feedback tomorrow, but just to give my first thoughts, it was a pretty solid level. A few things:

-Lots of blind jumps, coin guides are your friend! I had a hard time knowing whether I was falling to the ground or in a hole.

-whenever the cave goes dark, the outlines exanimated brown, so you can see better. The fog also helps you to see. Still, I recommend scrapping the exanimation and just making the outline always brown. It helps you see the platforms while still making for a unique challenge.

-the layer 2 at the end was a really awesome concept, but somewhat lacked variety. It seemed like the same setups were used.
Thanks for all of the feedback,
new version is out now!
- Music added!
- Outlines now glow faster on blackout sections
- 4th and 5th Yoshi coin should now be easier to locate, due to coins
- Added a "hole" and additional block on the part where you have to run on the rising/falling layer 2
- Coin guides
- More pizza!
- Probably forgot something
I might submit it later, but I still need to see if everything plays out well by now. 👌
Edit: Patch has been updated. Same link, redownload it if you already downloaded it earlier.
Posted on 2017-03-26 07:16:02 AM
| | |
| --- | --- |
| Pages: 1 2 | |
Forum Index - Important - The 10th Annual Vanilla Level Design Contest - [me] Crystal Chamber (patch is out now!)