In case of your disappointment, I'm sorry, but I'm actually asking about a thing in original SMW.
It is that I've always wondered as a child and I've been wondering until now - what is that BG in Vanilla Dome 4 supposed to be?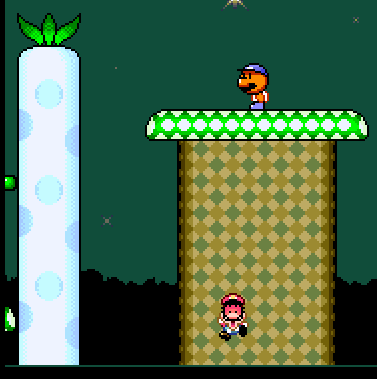 The same BG (only with different palette) was seen in few levels in Star Road, where it clearly represents stars and clouds.
However in underground this is quite unlikely (unless there is a portal to another dimension or something). I suspect the wall in Vanilla Dome is green in this area and the "stars" represent sunlight seen thru little holes like in other underground levels? And the black clouds are fog, or an area that's too deep for light to reach?
It's a good way to make an athletic level in the underground-themed world though. I also love how they made the one in Valley of Bowser. But this keeps me concerned...
Anyway maybe only the authors could have the answer to this question, or there isn't a definite answer to this question. Still I'd like to know, what you guys think.
Yeah, I just said "Might not hurt to ask a pointless question."
--------------------
I "ended" with SMWhacking years ago and now I returned reviving this REALLY old profile, K? That's why I'm member since 2009 and have so few posts...