Lots of Mario Enemies had their own Adventures, Goombas, Ninjis, Pokeys, Rihnos, Cheep Cheeps and.... hammer brothers.
But what about Buzzy Beetles? Pretty sure they didn't.
Welcome to Buzzys World Tour, a Hack where you play as a Buzzy Beetle who wants to explore the World!
Buzzy has some problems with Jumping, he can only jump one tile high and he can't run, just normaly walk.
DOWNLOAD!
This is a 3 Level Demo, the amount of exits for this Hack is still unsure.
I'd rate this Hack 'Hard' the third level is a bit more difficult than the first two.
Enjoy!
--------------------
VLDC11 Out Now!
Super Mario Travelers
I have done simlar things with Ninji and at one time I did a hack that was going to be around a Parabuzzy that could float.
Maybe add that in as a power-up? Just a joke-y suggestion.

Either way once I get some time I'll give this hack a try.
The levels look nice and I am getting a Captain Toad vibe from it.
Nice work.
Were you inspired by '' Goomba's Walk '' to create the hack?
Originally posted by Wieus96
Were you inspired by '' Goomba's Walk '' to create the hack?
not really, just a bit, but the idea itself came from me
--------------------
VLDC11 Out Now!
Super Mario Travelers
Looks nice! I don't particularly like forcing the player to the middle of the screen at all times though. Also it feels a bit slow, but then again it is a Buzzy Beetle
It looks like a pretty interesting and different hack, i'm going to check it out later
My Hack
-
Beta Testing
Don't ask me when i'll make NSMW3.
Tried half of it and it's a pretty neat gimmick. However I do think the lack of Buzzy's speed will make it tedious eventually. If I may suggest something, please add a few power ups! One idea that especially comes to mind is the 'Lava Beetle', aka a glitched Spiny in the Underground tileset. Make it shoot fire straightfoward or something, idk.

The design is overall pretty decent but difficulty is not really my cup of tea.
Level 1 is a really good introduction. Not a lot to say about it.
Level 2 is really finicky with the munchers and full jumps vs. partial jumps. It's easily the most difficult. There are also a few issues I had with the second half.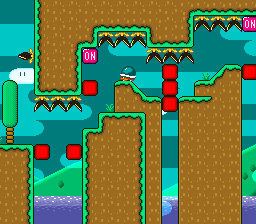 Getting Buzzy into that one-tile gap and jumping out of it is actually fairly difficult.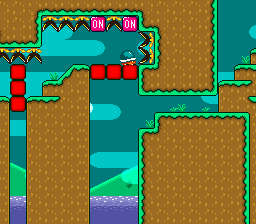 Sometimes, even if I'm hugging the right wall as I fall, I still don't land in the gap.
Level 3 is my favorite; I was frustrated with it until I realized the Ninji's have a pattern.
In general, I think each level could use at least one more checkpoint. The levels are fairly long considering how slow Buzzy moves.
I'm looking forward to seeing more. Great hack!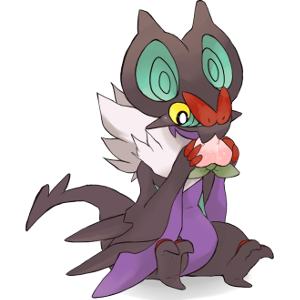 I love the design, not perfect, but fun sometimes and interesting.
The gimmicks are pretty well executed, its hard sometimes get used to the camera, aside that, its good for me.
Waiting for next demo...
---
plz pm me ideas to put here cause i dont have ideas
The screens look nice. The red blocks do look a bit NES-ish.
i'm a real sucker for nonmario smw hacks so i might try this out later. the red blocks look pretty bad but otherwise it looks pretty pleasant.
also
this
is the only powerup that i would ever accept in a buzzy beetle hack ngl
If only i knew how to code powerups

--------------------
VLDC11 Out Now!
Super Mario Travelers
Wirklich Tolle Idee das läst viel Raum für Knifflige Levels

--------------------
Mein Youtube Kanal
http://www.youtube.com/user/Lordkronos100?feature=mhum
My Youtube Channel
http://www.youtube.com/user/Lordkronos100?feature=mhum
This is an intersting hack, It remember me "Milk & Nuts" another Game where you only can jump one tile, This was fun to play and i died sometimes but nothing bad with the hack, Keep it up i want to play the full thing
A rather interesting project from you. I admit the idea is creative, though i wonder how much you can do with it? We´ll see i guess

The levels are quite difficult and a tad too long imo, so i´d appreciate if you could shorten them a bit or take some threats out. But apart from that, i adore this demo quite much.

--------------------




Haven't played this yet, but I've seen a video. It looks like a fine hack. It already has nice challenges but a few jumps are too hard. I like the new decorations you have used thus far yet I'm not sure about their shadings. If there's no shading on a block, add it and if it's done wrong, fix it.
Originally posted by Super Stiviboy
If only i knew how to code powerups

You can ask for this in
this
thread.
When I'll play this, I'll give you more feedback on it!
EDIT: Added the link to the newer thread. I must've been really dumb to give a link to an old, closed thread!
---
I have a Discord server as well!
-----
Basically, I believe in peace and bashing two bricks together.
Very interesting idea. The execution of it is decent. As others have pointed out, the lack of powerups and slow walking speed get bothersome quickly.

The hack is quite hard, but it's most definitely nowhere near kaizo difficulty. I'm looking forward to seeing what you do with it later. The idea of playing as a Buzzy Beetle can be taken way further than changing the game's physics. Your levels, however, are nicely done with creative obstacles and puzzles.

Overall, this is a very clean hack and creative level design. You should consider doing more with the Buzzy Beetle idea to make everything more interesting since the plain old slow walking and low jumping would probably get boring after a couple more levels.
Nice to see how this Buzzy Beetle hack turned out so far, Stiviboy. But didn't you notice that
Raibys made the VERY FIRST hack that stars a Buzzy Beetle?
Unforch, it didn't took so long to finish this, too bad.

Anywai, good hack, though!

---
Help us raise funds for the Armed Forces of Ukraine. #ДопомагаємоРазом / #HelpTogether
"Even if you personally are so dissatisfied with life that you want the world to end, surely the cruel reality is that it will continue on, unchanging. All the better for someone perfectly content, like me."
– Aya Shameimaru, Touhou Suzunaan ~ Forbidden Scrollery
Forum Index - Sunken Ghost Ship - C3 Museum - Winter 2018 - Buzzy's World Tour