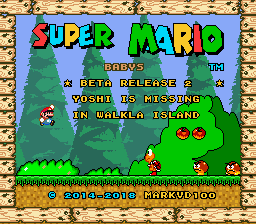 That's right, it's time for an open beta release of my hack finally.
Download here!
I like to thank SomeGuy712x for helping me test my first beta release of my hack!
This hack has been developed since September 2014, but the first ever alpha state of the hack file got lost it was far into World 4, and no backup was saved for it. But then the second alpha state started in around March 2015 and I remembered how the overworld and some levels are designed, but changed most of them. This one reaches as far to first half of World 3. But since Mid-Late 2016, development started to slow down due to other stuff like 100% OJ. This is going to act like a mix between SMW and SMB2.
Let me know if you guys think the overworld needs to be recreated because I'm not that good at making that kind of stuff.
Feedback will be highly appreciated because it has finally been time getting into this site!
--------------------