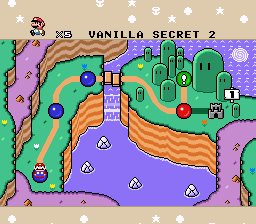 Look I've got some graphics. Weird, I never do custom graphics anymore.
Anyway these are overworld graphics loosely based on the overworld from SMB Deluxe for the GBC. You may remember me posting graphics similar to these many many C3s ago. Those were bad. These are good.
Caveats:
- These graphics are not compatible with the original SMW overworld graphics. If you want to use these, you'll have to (re)build your overworld from scratch.
- The waterfall animation is 15 FPS. SMW doesn't initialize overworld animations like it does with level animations, meaning overworld animations faster than 7.5 FPS mess up in-game. FuSoYa told me he's including a fix to this in the next version of LM, but in the meantime there's a fix in the zip that uses UberASM. Alternately, there's a version in the zip that slows the waterfall down to 7.5 FPS.
- The level tiles use multiple color palette animation. If you want to edit the animation, edit ExGFX 84 in a hex editor starting at offset FC4 at your peril. If you want to remove the animation, clear global exanimation slot 03.
CLICK ME