This was a pretty short but nice experience. The levels themselves are simple, but do get more involved as you progress.
It does feel a little bit inconsistent graphics-wise, with very simple foregrounds, redrawn-styled backgrounds, and sprites from a plethora of different styles. This image from the thread itself captures it well: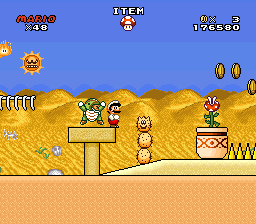 In addition, I noticed you use mostly very "low" backgrounds that leave a lot of empty space in the sky, especially in the levels that also scroll vertically. I'd recommend adding some elements to these backgrounds to fill the sky a bit more (mountains, hills, clouds, stars, etc..). The parallax was a nice touch, though!
There were also a few minor glitches; I got a "Time's almost up!" jingle in one of the stages and in the second desert stage one of the fire sprites instantly jumps into a solid tile and glitches through the ground.
I played through most of the demo and I must say this was quite an enjoyable experience. I'm curious to see what else you'll come up with!