File Name:
Morton's Empire
Submitted:
2018-01-14T17:09:08+01:00 by Erik
Authors:
Centipede, Erik, MercuryPenny, SMW Central, a hick
Demo:
No
Featured:
No
Length:
45 exit(s)
Difficulty:
Hard
Description:
After becoming an adult Morton Koopa decides to oppose his father and invade the Mushroom Kingdom all by himself. The first of two hacks.



A collaboration brought to you by Erik and Centipede, with the participation of a variety of people. Included in the zip are the credits. Thank you.
After only playing three levels in, I've already seen enough bugs to determine the hack is worth rejecting. These all need to be fixed before this hack can be accepted.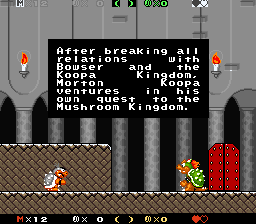 The status bar is mirrored to the top of the screen during the intro. This only happens after the message box opens, implying that this happens whenever a message is open.
It's hard to tell, but also notice the black line one pixel above the status bar. That line is constantly moving, similar to what happens when too many animations are on-screen at one time. The moving black line is likely a vblank issue.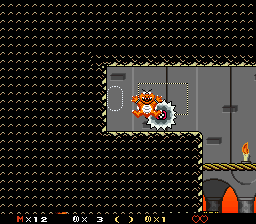 Sometimes when you die, the foreground palette glitches. This happened in the first two levels and is likely global.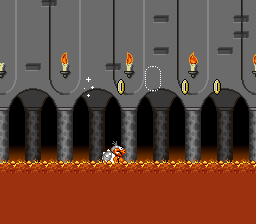 Every time you die, the status bar disappears for a few frames.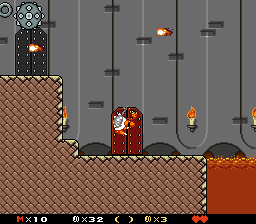 This candle flame priority issue isn't crucial but should be fixed anyway.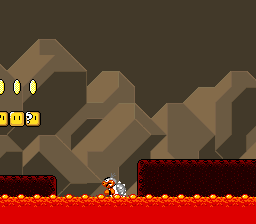 Sometimes when you die the background brightens for one frame.
The music and layer 2 trigger doesn't play well with dying. The layer 1 shake continues even while dying. When Morton falls into the lava almost immediately after the trigger, he freezes twice for a few frames: once normally during the death animation, but also once a few frames earlier before you actually die. Finally, dying on the same frame the trigger is triggered freezes the game.
I'm glad I grabbed this hack even though I knew going into it that it was hard, because my propensity to die a lot help discover quite a few of those glitches. Shame that that last image was my own level.