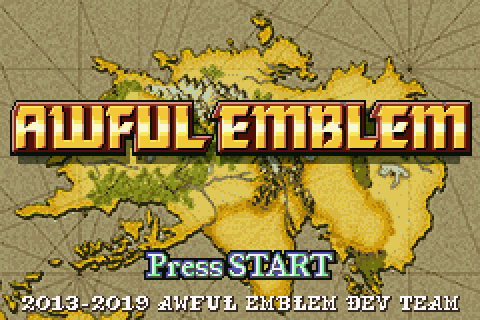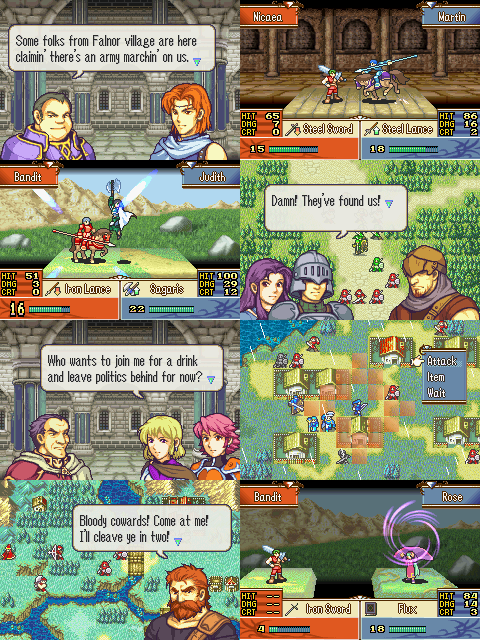 Welcome to
Awful Emblem
! This is the first time I've ever been able to show off this project at a C3 and I'm very happy to be releasing a bit of it for people to play today. And yes, I know this is SMWC3 and not a Fire Emblem fansite lol.
Awful Emblem is a romhack of Fire Emblem: The Sacred Stones for the GBA. It began back in early 2013 as an attempt by a bunch of users from Something Awful's Let's Play subforum to make our own good Fire Emblem romhack. We'd been enjoying a thread about FE romhacks and decided to just give it a shot. I led the project since I had "romhacking experience", meaning I'd used Lunar Magic before nevermind that LM is for an SNES Mario game and Fire Emblem is a GBA game. What originally started as kind of a joke hack quickly turned into something more, something actually serious. We started making our own plot, characters, custom maps, everything. And at this point we realized we were on our way to making an actual functional and good project. Feedback from old demo releases was very positive and it looked like we had something good going.
And then the project died for a while. FE Hacking used to have notoriously bad tools that we were all forced to live with. One of those tools eventually messed up our hack so badly that we couldn't get it to recover in any way shape or form, and our last unaffected backup was a long time prior. Our interest in working on it slowed down. Combined with burnout and simply having other things to do, the project eventually slowed down to the point where the only progress was us asking each other "Hey, we are still doing this, right?" every few months. The answer was always "Yeah, totally," immediately followed by four more months of radio silence.
Finally, I regained my interest in working on the hack again. In our hiatus, new methods and tools for developing FE romhacks had come along and we could throw those bad tools out into the garbage where they always should have been. We added a few new team members to the team, throw out the entirety of our old legacy script, changed from hacking Fire Emblem 7 to Sacred Stones for more features and support, and fully brought the project back to life. For the first time in three years, we're doing active development, and the end result is a product that we're way more excited to be working on. That said, because of all this, we essentially restarted the whole project in the pursuit of making it better from the very start.
In Awful Emblem, you will be guiding Judith, the daughter of relatively wealthy merchants and leader of a small farming town's militia, as she races to inform her province's Lord about a sudden invasion from the country of Nicaea. Along the way, she will have to grow into a position of responsibility far beyond what she had ever imagined, meeting and befriending new allies as she goes.
Features:
-A brand new, original story with an original cast of characters!
-An accessible difficulty curve!
-Good character art!
-Main Character is a female axe user! (we did it before it was cool, thanks intsys)
-7 playable chapters!
-Better female unit stats!
-Female enemies, animations, class cards and more!
-Press Select on the map to display all enemy ranges!
-Can take actions and even attack after Talking to a unit!
While the hack's difficulty is intended to be about as hard as or a little harder than Fire Emblem 7 and therefore accessible even to people new to FE romhacks, it does assume basic familiarity with FE mechanics and controls. There are no tutorials in the game.
Please only play on Normal or Hard difficulty, as Easy is untested and may accidentally call broken tutorial prompts.
Please read the included README for more information, credits and known bugs, as well as links to the patching software, growth rates, and most importantly our Demo Feedback Form.
We'd really appreciate it if people would take the time after playing to give us feedback through that form, as well as stray thoughts and comments in this thread.
Download Link: https://drive.google.com/open?id=1NlD4Z9-YFR5aRTpm-sTgMrrpnbXT9VV0
We hope you all enjoy playing Awful Emblem as much as we've enjoyed (re)making it, and we look forward to hearing your feedback on it!