What better occasion than C3 to release minor updates to things that already exist?
In the past few weeks a couple of people have messaged me saying they were having trouble with my
Message Box Expansion
patch. Turns out there was a bug in it that prevented the whole thing from working correctly on SA-1 ROMs. Whoops!

(to be precise, I forgot to remap the $14E0 sprite table for SA-1 so it'd always show the message assigned to screen 0. Easy fix once you notice.)
While I was at it I also added support for Lunar Magic 3.0's "extended levels" (or whatever you call them) and the way they handle screen numbers, so even in tall levels with stacked screens everything works as expected. (Thanks to people on Discord who helped me figure that out!) A side effect is that the message displayed no longer depends on the screen the
message box
is on, but on the screen the
player
is on a second or so after they hit it, so it may be wise not to put the message boxes right next to a screen edge.
So with these two updates you're not just getting version 1.51, but...
Message Box Expansion v1.52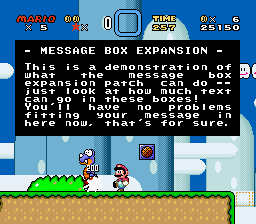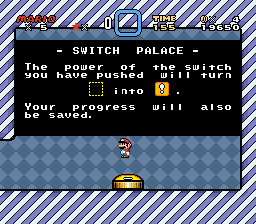 (still the same screenshots as before)
If you come across any other bugs, especially related to SA-1 or LM3, let me know!
---