File Name:
Pipe that Takes You to the Overworld
Added:
Authors:
Teo17
Act As:
25
Includes GFX:
No
Description:
Finally this pipe is made. If you enter this pipe, it will just take you to the Overworld or activate the normal exit depending on your choice.

Before you insert the pipe, read carefully the instructions in the readme! It's very important and the pipe will not work correctly if you don't follow the instruction.

No credit needed, but it would be appreciated.
Screenshots:
backup
In process of getting a screenshot which was missing for this submission, I came across issues that warrant removal. In LM v3.00+ ROMs, the pipe will make the game crash: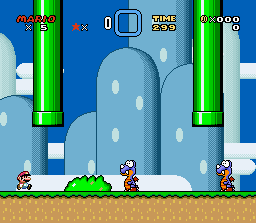 And in older versions, the block "works", but breaks vertical scrolling (I was already on the bottom of the screen in this example):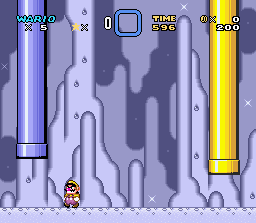 Some final notes about this: you can't enter this pipe from above, and since LM v3.00+, you can setup pipes that go to the overworld/beat the level through secondary entrances without requiring custom blocks. And code-wise, these ones are badly optimized.
Tested with GPS v1.4.1 (LM v3.04 ROM), GPS v1.3.0 (LM v2.53 ROM), SNES9x v1.58, in both normal and SA-1 ROMs (block was manually converted).